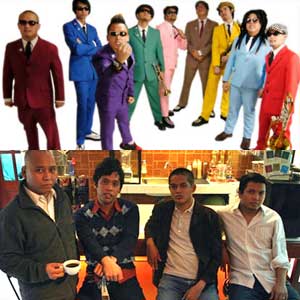 ---

Two of the country's most-promising ska bands—The Spaceflower Show andCoffeebreak Island—launched their debut albums last December 18 at Xaymaca Bar,Timog, Quezon City.
Formed in Baguio City in early 2000, TheSpaceflower Show is an offspring of an experiment with a different soundgenre: fusing classic jazz, soul, bossanova, mento and calypso (Jamaicanstyle), rocksteady beat, two tone, blues, traditional reggae, bluebeatotherwise known as ska.
From the members' hometown Baguio where theycurrently reign as the most recognized ska band, the band started conqueringManila when they contributed their song "Boogieman" (carrier single)to Jam88.3 and Galaxy Records' Doobie Nights album in September 2006.
The band has since been performing regularlyin bars such as Xaymaca (Timog Avenue, Quezon City), Gweilos Makati, and SMMall of Asia, Tropezz (Greenbelt 3); as well as in schools, out of townconcerts (such as CloseUp's North Luzon Tour and Pepsi event in Club ParawBoracay), and corporate events.
The Spaceflower Show recently contributed its own version of APO Hiking Society's "Salawikain"(with McoyFundales, formerly of Orange & Lemons) for Universal Records' Kami NapoMuna Ulit album released in August 2007.
Produced by No Seat Affair! and released byGalaxy Records, The Spaceflower Show's debut album consists of 13 all-originaltracks which include the songs "Boogieman," "You're AllMine" and the single "Hastened Time."
Meanwhile, Coffeebreak Island is one of the more well-knownbands emerging from the Manila ska scene, having been formed in Quezon City in2001. The band's sound is a mix of ska, reggae, soul, punk, and rock n' rollflavors. This powerhouse quartet delivers their music and keeps it real with apulsing rhythm section and soulful voices.
ADVERTISEMENT - CONTINUE READING BELOW
The band is inspired by The Specials, Selecter, English Beat, Hepcat, Toots & TheMaytals, Bob Marley, The Police, Sublime, and more. Coffeebreak Island hascreated a niche of its own, pushing boundaries and defying expectationswith their music. The proof—original compositions usingsound experimentation.
Coffeebreak Island has performed at local bars and haunts: Altered Native, Tribal Hut, Balsa, Bloo Gum, Big Sky Mind, Millenia, FreedomBar, Conspiracy Café, Tomato Kick, Crateri, Kolumn Bar, Moomba, Kaffe Carabana,Inihaw Republic, Magnet, Que Rico, Motorsports Alley, 6Underground,Capones, Peligro, Absinthe, Coco Cabana, Café Saguijo, and Tavern on The Square, as well as SMMall sale festivals, WOW Philippines (PTA & DOT sponsored) events, among others.
Coffeebreak Island brought its music overseas with a brieftwo-month stint in Xiamen, China in 2005, playing for audiencesranging from expatriates to local Chinese guests.
Produced by No Seat Affair!, the self-titleddebut album of Coffeebreak Island features 14 tracks including the songs "SweetLovin," "Party Song" and "Pakikinggan."