Nothing can prepare you for the full impact of multiple Grammy award-winner Mariah Carey.
Her windblown hair, the sway of her curvaceous hips, the way she touches her upper body and her undeniably sexy voice—all these elements help the diva bring out the emotions of her songs.
Wearing a revealing outfit that emphasizes her décolletage, Mariah captivated her Pinoy fans with her larger-than-life presence during her concert held at the SM MOA Arena last night, October 28.


This marks the diva's return to the Philippines since she had her first concert in Manila in 2003.
MARIAH WARMING UP TO FILIPINO AUDIENCES. The first set featured hit songs that fans grew up listening to, starting with "Fantasy" from her fifth studio album, Daydream.
The excited shrieks of the crowd intensified when Mariah performed "Touch My Body" and "Shake It Off." But the loudest cheers were reserved for "Emotions," when the pop icon belted out her signature whistle register.
In between production numbers, Mariah expressed her love for her Pinoy fans by belting out her greetings.
She sang: "Oh, it's so good to be here tonight… Mariah Carey, Philippines! That's my ring tone for you!"
At one point, the American singer/songwriter/producer even displayed a scrapbook given to her by a Filipino fan group.

"Did you see that [scrap]book they made for me? Let me enlighten you in case some of you are confused. I've seen some lambs here with these beautiful shirts. I know who you are!" Mariah exclaimed.

Mariah likes to refer to her fans as "lambs." In her Twitter account, she refers to her fans as "lambily," a combination of the words "lamb" and "family."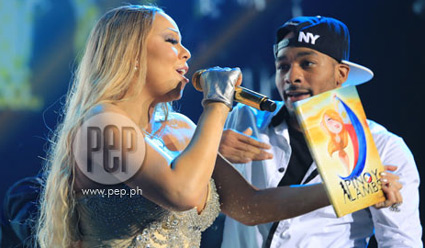 Mariah holds up a scrapbook given by her Pinoy Lambs


SINGING PROWESS. Sitting atop a piano, Mariah further displayed her reputed five-octave vocal range with her dramatic choice of songs for the second set.
She sang "Cry," one of the favorite tracks from her fourteenth album, Me. I am Mariah…The Elusive Chanteuse, which was launched last May.
After singing such a heart-breaking slow ballad, she belted out "Fly Like A Bird" from the same album.
She also serenaded the audience with "My All" from her sixth studio album, Butterfly.
For maximum effect, house lights were turned off with only a few spotlights illuminating Mariah and her long blond windblown hair.
Then she shifted gears and made the crowd go wild with excitement again as she performed the certified chart topper, "Heartbreaker."
Prior to singing "Beautiful," Mariah shared a few details about the catchy pop song: "It's a beautiful song. It makes me feel good…even though I dislocated my shoulder right after I did it. It could have been perfect!"
The Filipino audience sang along with her and even cheered for Mariah when the latter finished the last notes of Beautiful" with her trademark whistle.
REMINISCING THE GOOD OLD DAYS. For her third set, Mariah happily shared the stage with Trey Lorenz, a longtime friend and her duet partner for their 1992 cover of the song "I'll Be There," which landed on the No. 1 slot in U.S. charts back then.
"We're gonna do a remake for MTV, 'cause that was when Unplugged became a really big thing.
"So, we said ok. Who better than to jazzify and do our version of the classic [song of Michael Jackson] called I'll Be There?" Mariah explained, much to the crowd's delight.
Aside from the touching message of that song, Mariah and Trey added some improvised lyrics on the latter part of the song.
Mariah: "Just call my name…Will you call my name whenever I need you?
Trey: "Just pick up the phone baby."
Mariah: "Could I text you if the service wasn't right?"
The duo exchanged funny ad-libs before singing the last two lines: "Just call my name / And I'll be there."
Mariah also performed upbeat songs from her latest album including "Thirsty" and "Meteorite."
For her final set, the performer considered as one of the best-selling music artists of all time delivered a moving performance of "Hero." Visual clips of much-admired personalities and ordinary citizens doing exemplary deeds were shown in the background.
Making the number more dramatic was the sudden fireworks display onstage.
Although she sang "Hero" in a lower key, Mariah's unique and powerful singing voice was more than enough to amaze the audience.
The fact that Mariah got recently divorced with husband of six years, Nick Cannon, did not dampen her performance as she delivered an amazing show at the MOA Arena.
A proud mom of paternal twins Monroe and Moroccan, Maria dedicated "Supernatural" to her kids whom she fondly calls "Dem babies!"
"This goes out to Ms. Monroe and Moroccan! Dem babies! I wrote this for them because there's no greater love I've experienced."
Fans kept on cheering for the talented American singer/songwriter/producer as she sang another crowd favorite "We Belong Together," from her 2005 album Emancipation of Mimi.
Wearing a stunning blue gown, Mariah capped off the Elusive Chanteuse Show on a high note with "Always Be My Baby."
Endearing her more to her avid Pinoy fans, Mariah stated: "Mahal kita, Manila! Did I say it right? For all of you, you made my day!"