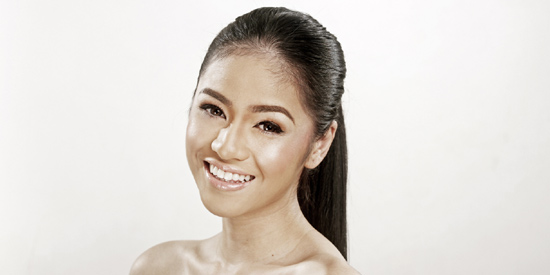 ---

Hazel Faith Capacete dela Cruz was already singing at age 3 in her family church in UCCP Kundiman. The middle child of three, and being the only girl, she spent most of her time indulging in music and art; at times mimicking the Disney princesses she would watch on television. Her love for singing was nurtured by their church, as she became one of the youth members of the choir and the youngest member of its praise and worship group, C-Major.

In school, she was active in activities at Trinity University of Asia (then known as Trinity College of Quezon City) where she was chosen to represent the institution for various interschool competitions in the YMCA Youth Congress.

For three consecutive years, she won 2nd place in Song Adaptation, 1st Runner-Up in Ms. YMCA Youth Congress, and 3rd place in Solo Singing Competition.

Aside from that, she was president and officer of various clubs and organizations, and a senator of the student council. On her high school graduation, she was awarded the Gloria Macapagal Arroyo's Award for Excellence in Culture and Arts because of her contributions to school activities.

It was also in high school where Hazel began writing songs privately. Her 18th birthday would mark a great change in her life.

Hazel's parents prepared a debut party for their daughter who was studying Architecture at the Mapua Institute of Technology.

During the occasion, she would be performing for guests her favorite songs, as well as songs she had written herself.

Helped by a family friend who introduced her to musical arranger Albert Tamayo, Hazel recorded five of her original songs and made a CD titled Leap of Faith as the giveaway for her party. She performed the five songs with the Team Vibe dancers. Her songs had now come alive and the moment sparked something inside of Hazel Faith!

Albert encouraged Hazel to pursue a career creating music as he saw her raw talent…she focused instead on her studies and finishing her degree.

While studying, she joined the "Glee Send Off to Hollywood Contest" by Solar Entertainment where she proved she was a super fan of the show by singing her original song, "Can't Comprehend."

Unexpectedly, she won and was sent to the U.S. for a walk-in part in the hit TV series. From there, Hazel became known in the Internet and in Glee forums as the "lucky gleek". She was even invited to interviews and TV shows to talk about her once in a lifetime experience.

After finishing her studies in MIT, Hazel began to work as a junior architect for seven months, having given up on a music career, before she was invited by an agent to play a bit-role in the GMA-7 series, Kasalanan Bang Ibigin Ka as Krissy, the insecure secretary who gets into a cat fight with Jackie Rice's character. This once again brought her to the show business industry. Soon, she was getting more calls for different shows.

Taking this as a sign, Hazel decided to take the chance and quit her office job. She began to work weekly as a bit player in a variety of shows until she became a part of director Jeffrey Jeturian's independent film, Ekstra/the Bit Player. Her role as Olga, the young and idealistic bit player became a supporting role for no less than "the star for all seasons" Governor Vilma Santos.

After working with Direk Jeffrey, she was invited to play Edselyn Viray in the hit morning TV series, Be Careful With My Heart. Until today, Hazel has become a recurring character in the TV series as Maya's (Jodi Sta. Maria) best friend flight attendant.

After reprising her role in Be Careful With My Heart, Hazel became part of GMA-7's BayaniSerye Ilustrado.

In the span of one year since then, Hazel has made many more independent films, and became a lead in the historical-musical, Ang Kababaihan ng Malolos, that portrayed the women of Malolos addressed by Dr. Jose Rizal.

Recently, she has been cast as a lead in an international independent series produced by Lantern Films about a family in the 1500s that suffered a curse that haunted them for four generations. Acting alongside the likes of Pen Medina, Hazel continues to hone her acting in the Star Magic Workshop under the guidance of director Rhayan Carlos.

It was during the same year that Albert Tamayo introduced Hazel to Curve Entertainment and she was signed as a recording artist. Her first single, "Plastic", written by Andrei Dionisio, is now available on iTunes and other online music stores. The music video can be seen at Curve's Youtube channel.

2014 has really been good to Hazel Faith with her being one of the Top 15 Finalists in this year's Himig Handog P-Pop Love Songs for her composition "Everything Takes Time."

Truly, her patience has been paying off because not only did she appear as composer in the annual songwriting tilt but she was also commissioned to interpret and record her song. During the finals night, she performed with some of the best OPM singers.



ADVERTISEMENT - CONTINUE READING BELOW