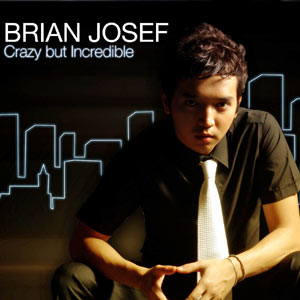 ---
Brian Josefwill be launching his debut album Crazy but Incredible at the CentralPlaza of Eastwood City, Libis, Quezon City. The musical heartthrob andsongwriter-singer will release his 12-track, all-original album on January 25(Friday) at 7 p.m. Brian Josef will also showcase the music video for his firstsingle "Crazy but Incredible" directed by his manager, Myke Sarthou.The official radio partner, Mellow 94.7 FM, will broadcast the event live.
His narrativeis both frank and playful. Brian Josef captures the vibe of a generation thatcelebrates individuality. He mimics life in the city through his sounds andstories, and expresses his own uniqueness with his music. Brian fuses elementsfrom various musical styles and recording technology to create the overalleffect of his music. It is a whole new sound that is crazy but incredible.
He believesthat there is no "bad" or "good" in music. For artists like himself, music is a wayof expressing one's self and honesty makes any form of music resistant tocriticism. This philosophy must have taken root in his childhood."When I listen to a song, my parents did not comment on whether the songwas good or not. If I like what I heard, I ask them for the title. Theywere only happy to oblige," he says.

His debut albummarks two big achievements for the young artist. First, it showcases BrianJosef as an excellent songwriter and musician who can whip up interestingstories and concoct riveting imagery using his melodies. The words and music ofall 12 songs in the album are by Brian. Second, it showcases him as acompelling singer blessed with a distinct singing voice that convincinglydelivers the songs with an alternative and pop flair.


ADVERTISEMENT - CONTINUE READING BELOW
Crazy butIncredible,Brian's debut album, is produced by Talentfolio, Inc. and Upperhand Entertainment. It is exclusively distributed by Sony BMG Music Entertainment.
Call Talentfolio,Inc. office at 433-0790 for more information on Brian Josef.