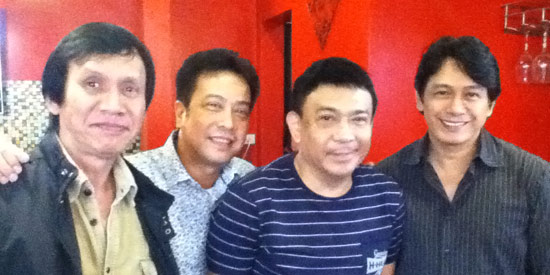 ---
Hajji Alejandro, Rico J. Puno, Rey Valera and Marco Sison are names held in high regard in the local music industry. Their classic songs are held near and dear to the hearts of their fans all over the world, as proven by those who attend their concerts abroad. The foursome will perform together again at Solaire Resorts and Casino on November 21.
The four singers are legendary in their own right, so much so that they are recognized on the street in foreign countries. Marco Sison, who will not be forgotten as the heartthrob he was in the 1980s, relates that one time when they were in New York for a performance and walking on the boardwalk when they were approached by fans who recognized them. "Sinasabi ng mga Amerikano na 'Sino bang mga mokong na 'to? Sinusundan ng mga tao.' At pamilya-pamilya yun. Nakakaaliw talaga." It was as if they were the four Beatles, as it were.
Considering that the height of their popularity was decades ago, their lasting appeal lies in their innate talent and overall charisma and they continue to maintain their health to keep their voices in check. They watch the temperature of their drinks and they take care of their skin. Their women supposedly keep them young. Rey Valera, whose theme songs continue to be used in many soap operas, has a self deprecatingly funny outlook on how he preserves his looks. "Ang sikreto ko? Nung bata ako, mukha na akong matanda."
Speaking of humor, it is very important to their show; in fact, their singing is almost secondary to their comedic interactions and laughs they generate. Rico J. Puno, who is a total entertainer with hosting and acting also under his belt, humorously states, "Pag hindi ka gwapo, kailangan marami kang jokes. Pag gwapo ka, maski tumayo ka lang, ayos na. Pero importante yung humor na yun. Lalo na dun sa aming market." He even has an old joke titled "Higante" that he keeps repeating and repeating but when he doesn't bust it out, the audience actually requests for it. Their gregarious interplay is so spontaneous and free flowing that they have to watch that don't go over their running time.
ADVERTISEMENT - CONTINUE READING BELOW
They joked that foreigners sometimes need a pause so their Filipino companions can translate the localized punchlines and anecdotes. But on Filipino soil, there is no such problem. The Filipino audience is different from the crowd abroad; they are more appreciative and wilder to the point of attempting to climb up the stage. Such reactions give the four the energy to carry on with their performances.

Hajji Alejandro (the "Kilabot ng Kolehiyala" known for being the first ever winner of the MetroPop Song Festival) says: "You don't have to work a day in your life if you get paid for something you love doing. Because you don't work music, you play music."
The four are expected to perform classics that they are known for. Marco Sison's "Si Aida, Si Lorna O Si Fe" and "My Love Will See You Through" are sure to be requested while Rey Valero will certainly not skip on "Maging Sino Ka Man" and "Malayo Pa Ang Umaga". Rico J. Puno's "Macho Gwapito" and "May Bukas Pa" are not to be missed while Hajji Alejandro's "Nakapagtataka" and "Kay Ganda ng Ating Musika" are true favorites. They are joined on stage as well by Solenn Heussaff and Ybeth Garcia.
The OPM Legends: The Reunion is already sold out but an encore performance is inevitable for these four entertainers who are truly deserving of being called "legendary."