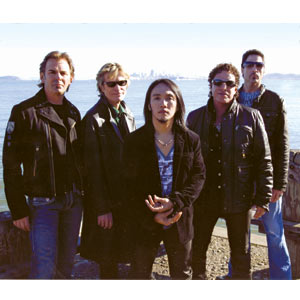 ---

For dreamers frustrated with the unending struggle of trying to makeit in the dog-eat-dog world of show business, take heart—Lady Luck just mightsmile on you when you least expect it.
Takethe case of Filipino singer Arnel Pineda, who for years had been trying to hitthe high notes, literally and figuratively, while doing cover songs in numerous bars around Metro Manila. Since 2006, Arnel has been part of thelocal band Zoo, which often performed covers by Journey, Survivor, Aerosmith,Led Zeppelin, Air Supply, and other popular acts from the '70s, '80s and '90s.Little did Arnel know that this would be his ticket to international fame.
The40-year old singer-songwriter has just bagged a once-in-a-lifetime gig: beingthe frontman of his favorite group, the American rock band Journey. Formedin 1973, the band is the same group that popularized the power ballads "OpenArms" and "Don't Stop Believing." Journey is currently composed of Neal Schon(guitar), Jonathan Cain (keyboards), Ross Valory (bass), and Deen Castronovo(drums).
Lucky?No doubt about it. But for Arnel, it's more about being in the right place at theright time.


"Itwas long time fan and friend, Noel Gomez, who thought of putting up a video ofone of my band Zoo's performance in YouTube. For me, it was like, hey noproblem, you know, no big deal. After all, fans do take videos and pictures allthe time; I thought there'd be no harm, I was thinking, it could actually besome sort of promotional spot for us and we don't have to do [anything] much, justplay music as we usually do, " explained Arnel during the January 11 pressconference held at the Hard Rock Café in Makati City. MCA Music organizedthe presscon that also served as the send-off party for Arnel who will now bebased in San Francisco, California.
ADVERTISEMENT - CONTINUE READING BELOW
Whathappened next is proof of the power of the Internet.
Here'swhat Neal Schon, guitarist and leader of Journey has to say about the incidentas posted in the band's official website: "I was frustrated about nothaving a singer [Journey recently fired singer Jeff Scott Soto], so I went onYouTube for a couple of days and just sat on it for hours. I was startingto think I was never going to find anybody. But then I found The Zoo and Iwatched a bunch of different video clips that they had posted.
"Afterwatching the videos over and over again, I had to walk away from the computerand let what I heard sink in because it sounded too good to be true. Ithought, 'He can't be that good.' But he is that good, he's the real deal andso tremendously talented. Arnel doesn't sound synthetic and he's not emulatinganyone. I tried to get a hold of him through YouTube and I finally heardfrom him that night, but it took some convincing to get him to believe that itreally was me and not an imposter."


TheFilipino singer had his doubts and reservations right from the start. "Myinitial reaction was of disbelief. I was quite skeptical. I thought, why wouldsomebody like Neal Schon look for someone like me, right? I thought it was a hoaxso I ignored it. But then upon sage advice, I decide to try and e-mail Nealback and...here I am."
Arnelconsiders himself as a vocal chameleon, one who could jump easily from doingSteven Tyler to Bono and Freddie Mercury to, yes, Steve Perry.
ADVERTISEMENT - CONTINUE READING BELOW
"AlthoughI don't have formal training, I could do a lot of voices. Maybe it's because ofmy long experience doing covers," he said.
Arnelis the replacement of Jeff Scott Soto, who replaced Steve Augeri, who stepped infor Steve Perry (no doubt the most popular of Journey singers), who himself,actually is just a replacement for Robert Fleischman (whew!).
Arnelknows about the band's history and as such is very realistic about hisposition.
"Iam not thinking that this is going to be forever. Anything could happen. Let'ssay Steve Perry comes back in, I'd be glad to step aside, you know."
Butfor now he is happy for the chance to bask in the limelight. "It is reallyunbelievable. And to think I waited 25 years of my life to get to this. Whowould've thought, right? I mean, I'm just too lucky, I guess," he beamed.
Journeyis currently working on a new album with producer Kevin Shirley, which theyhope to release by spring/summer 2008.