Female vocalists of '90s bands sing Eraserheads' "With A Smile" for a cause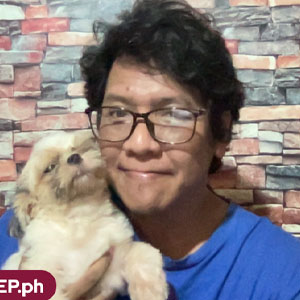 by Rommel R. Llanes


Apr 4, 2020
Singing the iconic 1994 feel-good pop song "With A Smile" by the Eraserheads, there is nostalgia in the air, because performing the song are female vocalists of local '90s bands.
The video features Color It Red's Cooky Chua, sessiONroad's Hannah Romawac-Olives, Ang Bagong Lumad's Bayang Barrios...

Mojofly's Kitchie Nadal-Lopez, Barbie's Cradle's Barbie Almalbis-Honasan, and Sugar Hiccup's Melody del Mundo-Lucas.
Also appearing are Fatal Posporos' Kris Gorra-Dancel, Moonstar88's Acel Bisa-van Ommen, Prettier Than Pink's Lei Bautista-Lo...

Humanfolk's Cynthia Alexander, Imago's Aya de Leon, Agaw-Agimat's QT Paduano, and Pu3Ska's Skarlet (Myra) Ruaro-Brown.
Intrigued by the video, PEP.ph (Philippine Entertainment Portal) reached out to Cooky Chua, the person who sent the video to PEP editor-in-chief Jo-Ann Maglipon.

In turn, Cooky hooked us up to the person she says masterminded this dream collab of '90s female vocalists—Melody del Mundo-Lucas.
"I had this idea to get all the '90s female vocalists," narrates Melody via Facebook Messenger, "to sing 'With A Smile' for this project, so I called QT to share it and also asked her to join.

"She was the first one I reached out to and she said yes right away.
"I don't have a direct connection with the others like she does, so she created a group in Messenger with almost everyone in the lineup.
"The others who are closer to the ones not in the group suggested to invite them as well.
"It was quick and fast and everyone was on board. I'm very happy about this project as I have great admiration and respect for all these women.
"I'm honored that they actually joined."
What prompted her to spearhead this project?
"We did it 'cause we wanted to uplift everyone's spirits right now due to the pandemic," replies Melody, referring to the current COVID-19 crisis.
"We also agreed on a cause to help other musicians who have lost their jobs and are in dire financial needs.
"We also want to honor our healthcare frontliners who are sacrificing a lot to save people's lives."
For donations, a contact number appears on the description below the YouTube video.
There is also a link to the KayaKap Facebook page for those who want to help musicians affected by the current crisis.
RECORDED WHILE QUARANTINED
How long did it take them to finish the video?
"It took a few days to gather all the individual videos," says the former lead singer of the dream-pop band Sugar Hiccup.
"Everyone recorded it from the confines of their homes as we are all on quarantine."
The artist of Sugar Hiccups' last album, Closure, edited the video.
"Marcel Ramos helped me. He arranged and edited the video. This is mostly his."
Melody took care of uploading the video on YouTube.
Was "With A Smile" composer and singer Ely Buendia cool with them using his song?
"Of course I had to ask Ely for his permission. I reached out to him and just told him I have a project that I want to use 'With A Smile' for.
"I didn't tell him much details so he doesn't have a clue.
"He said there should be no issues even when I asked him about posting it on YouTube."
A PRELUDE TO A DREAM CONCERT?
Is this collaboration the start of another dream project? A concert perhaps, featuring all the singers in this video?
"Wow, that would be awesome! Why not?" Melody says, sounding excited about the idea.
"However, I'm based here in L.A., Cynthia is in Washington, QT is in Texas, and Kitchie in Madrid.
"Maybe the rest in Manila can come up with something later on since majority of them are based there.
"We do have this show coming up here in Los Angeles in August.
"It was moved because of COVID-19," says Melody, who mentions that they have a show, Los Angeles La Filipina Fest, featuring her, Kitchie, Aya, and Cynthia.
Originally scheduled for June 19, 2020, the show has been rescheduled for August.