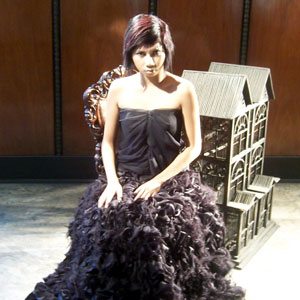 ---

Zelle,the group behind the radio smash-hit single "Sabihin," will be launching theirmuch-anticipated follow-up video Akala Mo Lang at Eastwood City,Libis, on January 25, 2008.


The single/video "Akala Mo Lang"directed by their manager, Myke Sarthou, will premiere at the Eastwood Central Plazain Eastwood City, Libis, on January 25 (Friday) at 9:00 in the evening.


"Akala Mo Lang" is just one of the 11 originalcompositions taken from their debut album Search for Warmth produced byTalentfolio/Upperhand Entertainment and exclusively distributed by Sony BMG Music Entertainment. The song was composed bythe band's lead vocalist Jeazell Grutas. Akala Mo Lang tells the story of twopeople whose relationship is uncertain, with the guy assuming the girl feelsthe same way for him.


In the video, Jeazell proudly wears the creationof talented young fashion designer, Veejay Floresca, who's known in the fashionindustry for dressing top models and celebrities. Floresca's works are oftenfeatured in glossy fashion magazines.


According to the director and Zelle's manager,Myke Sarthou (who also directed the band's first video, Sabihin), he wantedto give the video a different dimension to the song—to interpret the materialquite differently from what others would perceive the song to be about—aside fromgiving it a black-and-white treatment and by giving its story line a twist.


He added that the video took less than a day to shootbut it took so much time deciding what to do for the shoot. Several conceptswere changed and even the location had to be changed a day before the shoot.


"This is a very difficult video to make,not technically but creatively. Mahirap gumawa ng black-and-white video sincethere are fewer elements to work with especially in composition. The band is agreat team to work with. They get instructions very easily. What's nice aboutour working relationship with the band is that I've been working with them forsome time now, and that all of us are committed to making a good product allthe time," reveals Myke.


ADVERTISEMENT - CONTINUE READING BELOW
Akala Mo Lang: The Video Launch willtake place at Eastwood City, Libis, Quezon City, on January 25 (9 pm).


For more information on Zelle's schedules andactivities, visit their official website at www.zelletheband.com.ph orhttp://zelletheband.multiply.com