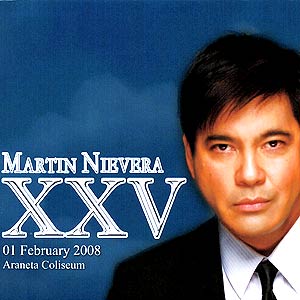 ---

Concert King Martin Nievera will celebrate his 25th year in the music industry with a concert titled Martin Nievera XXV. It will be held on February 1 (Friday) at the Araneta Coliseum. This will also serve as his advance birthday treat for his fans since Martin will celebrate his birthday on February 5.
With numerous albums and sold-out concerts to his name, Martin still remembers fondly when he was beginning in the business. He had his very first concert, Wanted: Martin Live at the Folk Arts Theater in August 1983. "The concert was the realization of my life-long dream as a kid, which is to perform in front of a live audience. It wasn't perfect because several things went wrong during the show and that we weren't able to record it, but it's still memorable for me."
Martin promises to fill up the three-hour concert with classic songs that he has recorded during his 25 years in the music scene.
"Well, I have a lot of songs, I have a few medleys. I have a lot of stories to tell you, some stories you've never heard about before about how this song was written. Rowell [Santiago, stage director] wants me to be deeper with the explanation of my songs. Songs I wrote for a girl you never knew about, things like that."
"I'll try to be as intimate as possible even though it's a very big show with an orchestra led by Gerard Salonga. Musical director is Louie Ocampo. Both of them collaborating on every song which I think, if you're a music fanatic, you'll like the show 'coz you'll see how they put their genius minds together to come with this one song. That alone, I'm so excited for this show. Sing my songs with an orchestra headed by Gerard and Louie," said Martin enthusiastically.
ADVERTISEMENT - CONTINUE READING BELOW
Martin added that it will be a tough act to put all his songs in just one show because they might forget some songs that fans might look for. Martin has released unforgettable ballads throughout his enduring musical career. Such timeless classics include "Be My Lady," "Kahit Isang Saglit," "Say That You Love Me" and "You are My Song."
Martin's sons, Robin and Ram, will be his special guests in his concert. Martin was surprised when Robin asked him if they could join and appear in his concert.
The concert will be at the Araneta Coliseum at 8:00 in the evening. Concert producer is XVR Events and 105.1 Crossover, which have produced Martin's major shows before. Tickets are available at SM Ticketnet outlets (Tel No. 911-5555) and Crossover offices (Tel No. 680-1051).
Martin Nievera XXV will also be brought to the provinces—April 30 at the Pacific Grand Ballroom of the Waterfront Hotel in Cebu City; May 10 at the Corpus Christi Gym in Cagayan de Oro; and on May 17 at the Clark Expo, Clark Freeport Zone, Pampanga.