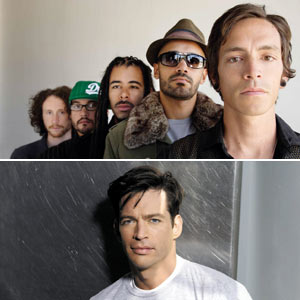 ---

MTV Philippinespromises a musical extravaganza as the youth-oriented music channel resumes itsMTV Concert Series this year. During the first quarter, MTVwill present My Chemical Romance (January 25 at Bonifacio Open Field) and theMaroon 5 (March 5 at the Araneta Coliseum).


Moreover, two big names are coming to Manila to blowaudiences away this March. On March 9, American band Incubus is set to havetheir much-awaited comeback concert at the Araneta Coliseum. This is the secondtime that Incubus will perform in the Philippines after their concert lastMarch 12, 2004, held at the open grounds of the Cultural Center of thePhilippines.
Hollywood star andcelebrated crooner Harry Connick Jr., on the other hand, will set foot in the Philippines for the first time. Hisone-night concert will be held on March 15, at the PICC Plenary Hall, presentedby MTV together with Globe.
INCUBUS. Multi-platinum alternative rockers Incubus released their fifth studioalbum, Light Grenades, in November2007. The highly anticipated new album, which was produced by renowned producerBrendan O'Brien (Pearl Jam, Bob Dylan, Korn), is a mix of hard rocking songsand sublime ballads recorded over the last year in Los Angeles andAtlanta. This is Incubus' first new music since A Crow Left of the Murder, which spawned the hit"Megalomaniac."


"It kicks, it bites, it loves, it hurts. It's the closest we've ever come tobeing the band we want to be," says singer Brandon Boyd.
Boyd, Mike Einziger and Jose Pasillas formedIncubus in 1991 when they were high school classmates in Calabasas, California.DJ Chris Kilmore joined them in 1998. The band's big break came in 1999 with thesingles, "Pardon Me," "Stellar" and "Drive" from their second album Make Yourself, which wentdouble-platinum. The group's third album, MorningView was released in 2001, debuted at Number Two on the album chart and includedthe radio hits "Wish You Were Here," "Nice to Know You" and "Warning." BenKenney joined the band in 2003. The most recent release from Incubus, A Crow Left of the Murder achievedplatinum status and was released in 2004.
ADVERTISEMENT - CONTINUE READING BELOW

Incubus continues to stay active in humanitarian causes with theircharitable foundation, the Make Yourself Foundation (MYF). Since theinception of MYF in January 2004, Incubus has raised over $500,000 forcharitable causes.


HARRYCONNICK JR. Over the past two decades, Harry Connick Jr. hasproven to be among the world's most successful and multi-talented artists. Connick first reached mass audiences as apianist, singer and bandleader, securing his place in the public eye as aRenaissance man and versatile entertainer. His love of music and performingdates back to his childhood in New Orleans, where he studied piano with suchluminaries as James Booker and Ellis Marsalis. He first performed publicly at age five, appeared on his first jazzrecording at age ten, and released his self-titled major label debut forColumbia Records at 19, only a year after his high school graduation and hismove to New York City.


Connick began 2007 with the January 30thColumbia Records release of Oh, My NOLA,a new album of New Orleans-inspired music. On the same day, Marsalis Musicreleased a companion album of instrumentals by Connick's big band, Chanson du Vieux Carré.

All of these achievements—not to mentionhis album sales of over 25 million, his three Grammy awards, Emmy award, andTony nominations—reflect a creative energy that make Harry Connick Jr. uniquein the world of contemporary entertainment.
For more information on these concerts and the MTV Concert Series, tunein to MTV Philippines on Channel 57 on Sky Cable (or ask your cable operatorfor channel designation) or log on to www.mtvphil.com
To reserve tickets,call Ticketnet at 911-5555 (for Incubus) and Ticketworld 891-9999 (for HarryConnick Jr.). For sponsorship inquiries, call MTV Philippines at 706-1580.
ADVERTISEMENT - CONTINUE READING BELOW