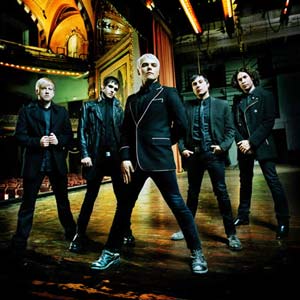 ---

The Black Parade has arrived in the Philippines, making ourcountry the first leg of their 2008 Asian tour that begins tonight and ends onJanuary 31 in Indonesia. The American rock stars are raring to perform livetonight, January 25, at the Fort Bonifacio Open Field, Taguig City.
My Chemical Romance, also called The Black Parade, met thePhilippine media for a press conference yesterday, January 24, at theIntercontinental Hotel in Makati City. During the event, the band was presentedwith a multi-platinum award by Warner Music for their album The Black Parade,which has 20,000 copies sold here in the Philippines.

The studio albumfrom this New Jersey quintet produced four No. 1 singles such as"Welcome to the Black Parade," "Famous Last Words," "I Don't Love you," and"Teenagers." This is their second majorlabel release following Three Cheers for Sweet Revenge (2004), whichalso did well especially with their hits like "Helena" and "Ghost of You" andhas sold more than two million copies worldwide.
My Chemical Romance's debut album titled I Brought You MyBullets, You Brought Me Your Love (2002) was released under Eyeball Recordsshortly after they formed the band in 2001. It contained Gerald Way's "Skylinesand Turnstiles," which was an expression of the vocalist's feelings regardingthe September 11, 2001 attacks. After watching terrorists crash a plane intothe World Trade Center, Gerard was inspired to form a band and play "violent,dangerous" music.
THE BLACK PARADE. The quintet is composed of singer Gerard, guitarist Ray toro, bassistMikey Way, guitarist Frank Iero and drummer Bob Bryar. After their successful 2004 album, themembers of MCR have been writing songs that were included in The BlackParade Album. The album wasrecorded with noted producer Rob Cavallo (producer of Goo Goo Dolls and AlanisMorissette). It also received a GrammyAward for 2008 Best Boxed or Special Limited Edition Package.
ADVERTISEMENT - CONTINUE READING BELOW
The title of the album, The Black Parade, refers tothe premise of the record, which is an epic album about mortality. Gerard said, "I'd like to think that whenyou die, death comes for you however you want."
The band's hit single, "Welcome the Black Parade," wasdirected by Samuel Bayer, who has also directed some of the music videos ofSmashing Pumpkins and Nine Inch Nails. When asked to talk about the making ofthe hit single's music video, Gerard narrated, "For the main character on thisrecord, the patient, his strongest memory is his father taking him to a paradewhen he was a child. So when death comes for him as he's dying tragically in ahospital, it comes in the form of a black parade."
Gerard admitted that he composed most of the songs in theiralbum. For this, he thanked his fellowband members for trusting him to compose their songs.
"I write all the lyrics," revealed Gerard. "It's reallycool. I think they trust me. Well, it'snice to have trust. We do have a lot of trust for this band. I always ask theiropinions, though. I ask them if it's too much or if it will make the peoplesad, you know."
What can their fans expect for the band's upcoming fourthalbum?
Gerard replied, "Something different. I mean, that's what we do every time. You know, we can never really write a songand sound like the ones we wrote before. I know it's gonna be really differentto what we're doing. It's gonna be wilder than what we've done."
ADVERTISEMENT - CONTINUE READING BELOW
After the Philippines, My Chemical Romance will continuetheir parade in Asia. Their next stop is in Taipei, Taiwan on January 27, thenin Hong Kong on January 29, and lastly on January 31 in Jakarta, Indonesia.