Christian Bautista gives PEPsters a chance to be the first to view his music video for the song "Up Where We Belong."

The balladeer, who is currently in London, sent a text message to PEP.ph (Philippine Entertainment Portal) indicating that this music video aims to motivate and inspire people this 2015.

"It's a video about how fans and friends lift each other up to where they belong to reach each other's potential.

"Especially my fans how they have been with me supporting me through the years."

It will be recalled that Christian started his career in 2003 when he became a finalist in a reality singing competition.

The singer-actor also says about his latest project: "This video hopes to inspire everyone to reach for their dreams together this New Year."

In the music video, Christian can be seen singing in various locations including the rooftop of a high-rise building and a bedroom.

It ends with photos of the balladeer with his fans.

"We used drone cameras to shoot on top of the helipad of the building," narrates Christian.

"It was quite hard cause the winds were very strong but our team was able to do it."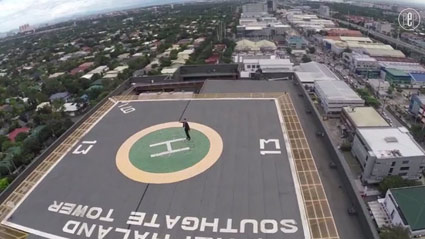 Miguel Tanchanco is the director of Christian's "Up Where We Belong" music video. Tanchanco is the son of Geleen Eugenio, the choreographer of Sunday All Stars where Christian performs regularly.

Tanchanco also helmed the music videos of James Reid.

Christian's "Up Where We Belong" is the theme song of the South Korean period drama series Empress Ki.

The song is part of his album SOUNDTRACKS: Christian Bautista Sings Movie Themes released under Universal Records.