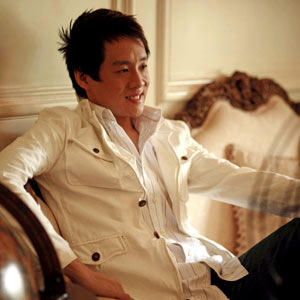 ---

He was in U-Turn. Now he has made a U-Turn. We're talking about singer Richard Poon, formerly of the acoustic band, U-Turn. He has just released a 13-track album titled I'll Take Care of You, which consists of a great number of standard tracks, is seeking to reinvent himself as a crooner in the vein of Harry Connick Jr. and Michael Buble.

"I guess, it just became stale for me," he now says of his former band.

Richard, who is of mix Filipino-Taiwanese heritage, is actually a chef/restaurateur by profession. He discovered his newfound passion for standards only very recently. Richard even admits to actually disliking it at first.

"I was quite biased. I always thought standards are mainly music for old people," he said candidly.

It was his manager who tried to convince the reluctant singer to just "try it."

"I was booked for some corporate affair and the repertoire includes a couple of standard tunes so he was trying to convince me. Unenthusiastically, I agreed."

It was only after hearing positive comments from friends later, that he rethought his position.

"They were all like, 'you sounded better...you're performance went up a notch...,' I was like, hmm, there might be something here."

More than about just his friends egging him on, Richard admits he noticed something about standards that intrigued him as a songwriter.

"Their attack on the melody is more pronounced and more developed that I gave it credit before. In fact, they're way better written than the melodies we use in today's pop idiom."

Richard should know. He is an accomplished musician whose deep knowledge of music allows him to delve into a wide variety of other musical genres.

Aside from singing and writing songs for his former band, Richard has also written for other artists including Regine Velasquez ["Lalala"] and Piolo Pascual [a song used for the soundtrack of the heartthrob's movie, Paano Kita Iibigin].
ADVERTISEMENT - CONTINUE READING BELOW

It is as such, that his debut solo recording is not just all about standards. "The songwriter in me wanted to try writing in that style."

Then again, it isn't as if Richard is just trying to emulate the likes of Frank Sinatra. "I give my renditions something extra. I make it livelier, more modern. I have a term for my style actually; I call it 'fresh, old-school.'"

According to Richard, I'll Take Care of You is just the beginning.

"Though I am very much hopeful that people would support me on this endeavor it doesn't mean that if they don't buy my album I'd find another musical style to get into. I think this is really it. Doing standards gives me satisfaction that I didn't quite have doing acoustic music."

And he loves the fact that it allows him to bridge gaps between ages.

"During my gigs, I see dads and moms enjoying the music with their young ones. So, it is kind of an accomplishment in itself for me...to be able to bridge that gap."


You can also catch Richard Poon as he embarks on a mall tour to serenade his fans with special tracks from his debut album on February 17, Sunday at the Grand Atrium of Shangri-la Plaza, February 20 at Trinoma with OPM Soul Child Julianne, and February 29 at SM Megamall.