With more and more Filipinos getting attuned to a variety of genres in the OPM scene, young singer Gabri Panlilio hopes to woo a bigger audience to her kind of music, which blends pop and classic sounds.
A singer trained in the classics, Gabri has just launched two new singles that infuse classical elements into the contemporary songs—"Let Me" on February 5 and "Our Time" on March 28, 2021.
She told PEP.ph (Philippine Entertainment Portal) in an exclusive interview last Friday, March 19, "My goal is to slowly introduce it.
"I just have to sing contemporary music and still maintain that classical sound."
"We have so many, as in a lot of talented classical singers. Imagine, they trained for how many years, and then, parang, it's like an acquired taste.
"Not everyone's gonna appreciate it, but I want to showcase that it's really beautiful, and the art and the hard work they put in it."
Aware of the challenge she's up against, mainly the obsession of Filipino audiences with birit performances, Gabri seemed bent on pushing for the widely popular style of operatic singing called bel canto, which literally means "beautiful singing" in English.
Lyrically soothing and phrased smoothly, it is the opposite of the ear-splitting, dramatically forceful birit.
The 21-year-old singer said, "I noticed kasi right now, people have this thing for the birit culture.
"They have this thing na, 'Ah, bumirit ka, magaling ka na,' instead of just focusing on the bel canto singing.
"I want to show that aside from hitting high notes and just screaming to the top of your lungs, I wanna showcase na parang you can just sing lang, you can just showcase your beautiful voice."
CLASSICAL MEETS CONTEMPORARY
According to Gabri, her song "Our Time" was actually inspired by the love story of her brother Xavi Panlilio and his wife, Dani Barretto.
About her song "Let Me," which she co-wrote with Patricia "Pat" Lasaten, the keyboardist of the OPM band Ben&Ben, Gabri said, "It's a song about those who are going through anxiety, depression, and especially those who are cooped up at home. And yeah, my objective is to enlighten and make them feel better amid the pandemic."
Gabri said she often takes inspiration from personal experiences and stories of the people closest to her when she's writing her music.
She described the process, "Actually, lyrics come first and then I talk to Pat Lasaten, and then I tell her, 'Pat, can you help me with my music? We need something that would fit my lyrics.'
"She'll send me ideas, 'Gabs, how's this? How's that?' I've been working with Pat since 2018 pa. She knows my voice very well na so she gives suggestions.
"The reason why I worked with her kasi one of my friends, his name is Isaac Iglesias, I worked with him years ago in the same company, that's how I met Patricia Lasaten."
Are there other OPM acts Gabri would like to collaborate with?
Without batting an eyelash, she said, "Not that I'm biased, but I really want to work with Ben&Ben. Like when I found out that Patricia Lasaten will be the one making my music, I couldn't say no to her talaga.
"It's my dream to collaborate with them. I really like their music. It's so nakakabusog ng puso."
But her biggest idol has always been the Tony Award-winning performer Lea Salonga.
And her biggest wish is to sing along with her.
Gabri said, "I grew up listening to her music. Especially, like, when I heard 'Reflection,' and when I heard 'A Whole New World,' it's so feel good.
"Every time I hear it, I can't help but smile. I hope to get to sing along with Lea."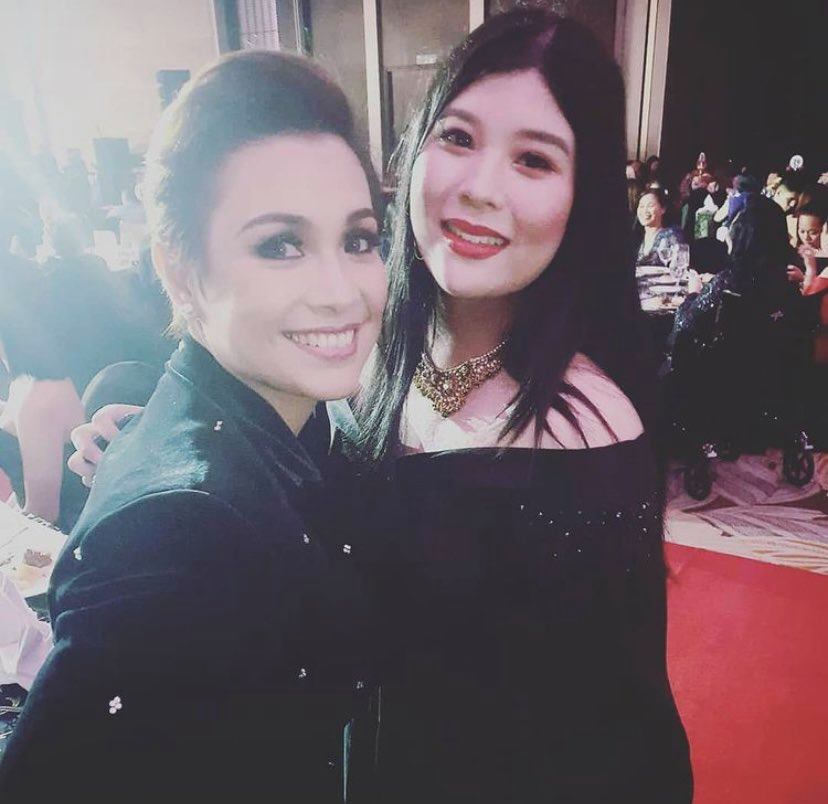 INTERNATIONAL ARENA
But just like her idol Lea, Gabri has already been making the country proud.
Over the past five years, she has represented the Philippines to the ChildAid Asia music festival, a benefit show to raise financial aid to indigent musical prodigies in Asia.
She was able to perform before Japan's Crown Princess Kiko of Akishino and Singapore's Prime Minister Lee Hsien Loong.
Asked about her experience performing in front of foreign audiences, Gabri said, "What I like about… there is that they really appreciate my style of singing.
"Like, everytime I'm there, my mom knows this, umiiyak talaga ako out of happiness na parang I never felt so accepted in my life.
"Imagine, I don't have to scream, I don't have to hit a high note just to showcase my talent. They really love the bel canto singing.
"All I have to do is just sing and yeah… They really touched me. Nakaka-touch talaga, I never thought I'd felt so accepted in my life."
What kind of artist would she like to be remembered as?
Gabri answered, "I would like to be remembered not by trying to copy people. I just want to be known as simply me, singing my style, and to touch people's hearts.
"That's what I want to be known as, parang an inspiration to young artists, as well."
Ano ba ang latest sa showbiz? Find out kung anong level ang showbiz IQ mo by subscribing to PEP.ph
Viber Chatbot
here. Join our
community
para laging updated!