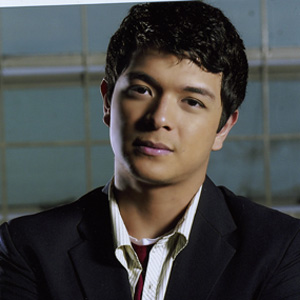 ---

Two years ago, actor Jericho Rosales announced his foray into the local music scene in the same conference room found inside the head office of EMI Music Philippines in Quezon City. That was 2006.
Today, Jericho sits at the same chair inside the same room. But this time, he is by his lonesome. There's no sight of guitarist friend Dan Cerenado, bassist Jude Manota and drummer Aaron Ace Manio—the three musicians comprising Echo's band, Jeans—to keep him company as he answers uestions coming from the press.
For 2008, there's no Jeans—the band. Only Jericho Rosales—the solo artist. Period.
"It's not reasonable anymore," staggers Jericho as he explains the reason behind the demise of Jeans, consequently resulting to a solo album for the young actor.
For all of its noble intentions to just play music and express themselves artistically as one unit, Jeans simply was no match against the looming image imposed by its lead singer-songwriter whose ticket to fame was through television and the movies. As Jericho himself observes regretfully, "Jeans is Jericho Rosales din naman and Jericho is Jeans din naman. "
LETTING GO. The decision to go solo was management's idea—a recommendation accepted by Jericho after days of painful contemplation.
To Jericho's credit, the main reason why he chose to assemble a real band tied up under one name was to prove his sincerity in doing music; that it's not a passing interest meant simply to feed his celebrity ego. So, instead of naming the group back then as Jericho Rosales and Jeans, Echo sternly lobbied to name the group Jeans. No more. No less.
Jeans debut album Loose Fit [2006] was met with lukewarm response. It was not a lackluster effort but Pinoy's are generally skeptical with mainstream actors, particularly a matinee idol, releasing an album considered as a rock n' roll record.
ADVERTISEMENT - CONTINUE READING BELOW
"Ako talaga noong una ayoko talaga gamitin 'yong pangalan ko," he mentions. "People would laugh at me kasi alam ko kung saan ako galing e, sabihin nila 'artista' ganyan so mahirap talaga."
But as skeptic as the audience were with the thought of seeing an artista sing and write songs, it still dawned to Echo's handlers that perhaps it would be best for him to go solo full-time instead of distancing him from the persona people came to love.
When Echo finally accepted the idea of going solo, he talked to his band mates until his three bandmates agreed to let their front man fly on his own.
"It's just that... parang to the music to move or for the albums, para maging mas smooth 'yong flow ng lahat parang sabi nila mas madali na lang na sige na, 'wag na nating labanan 'yong resistance," explains Echo about the band's collective decision.
SOLO ACT. With Jeans now a thing of the past, Jericho entered the recording studio anew, this time as a solo artist.
Part of Echo's decision to go solo includes giving in to demands to do covers to boost his introduction as a serious artist. Doing covers, especially familiar ones, is also one way to bolster the chance of gaining a strong radio hit.
True enough, Echo's version of the modern classic "Paglisan," originally done by Color it Red, gained the top spot in Yes FM's countdown—a remarkable achievement considering that the album was yet to be launched during the time.
"Actually, madami akong sessions ng recording noon," recalls Jericho. "Kasi at first talagang nahirapan kami kung anong gagawin namin sa kanta. Siguro, mga four or five times akong bumalik sa studio for that song [Paglisan]."
Echo's reservations in doing covers gradually vanished and before he knew it, he already recorded three more cover tracks—Sharon Cuneta's "Pangarap Na Bituin," Tito Mina's witty-romantic ditty "Ikaw Pa Rin," and Joshua Kadison's "Beautiful In My Eyes"—good enough to fill half of a full-length album.
ADVERTISEMENT - CONTINUE READING BELOW
To re-introduce the songs Echo personally wrote, EMI included "Ngayong Gabi," "Tuwing Nakikita Ka," "Coming Out" and "Kasama Ka" in his first album as a solo artist. The four mentioned original songs were included in Jeans' debut effort.
Talking about his self-titled album, Echo says: "This new album is lighter than the first one. The first one expressed angst while this new album is more laid back and feels more friendly."
Proving that there's no animosity between him and his ex-Jeans bandmates, Echo happily reveals that Dan, Jude and Aaron would still be joining him in promoting the album.
"Magkakasama pa rin kami sa gigs so in a way parang buo pa rin kami," he assures the media with a smile.
More than having an album named solely on him, this new development holds a much deeper meaning for the artist himself.
"It's a new chapter of my life in singing," he reflects. "I'm fascinated, happy and amused how letting go and opening up changed my entire perspective."