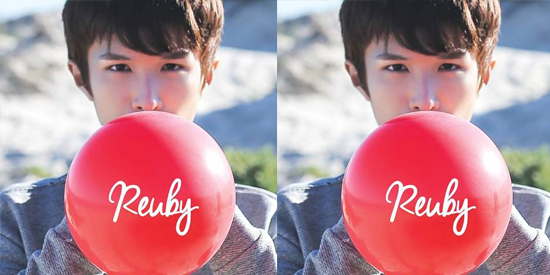 ---

Last August 9, in time for National Day, Warner Music Singapore released "My Sunshine," the debut single from Singapore's brightest new singer-songwriter, Reuby.
The single immediately propelled to No. 1 on iTunes Singapore's Top Singles Chart (where it remained for 2 consecutive days) proving that Singaporeans are increasingly willing to shine the spotlight on local talents – a fitting homage to Singapore's 49th birthday.
On the same day, Warner Music Singapore released the Official Lyric Video for "My Sunshine" on its YouTube channel, which received positive acclaim from local netizens.
"Nicely done... Kudos to local talent."
– Ahsraf Ali
"Heard this on the radio the other day and couldn't Shazam it! So glad I found it here!"
– Rachel Chew
"Good rendition of the song! Looking forward to more from this young local talent. Keep it up!"
– Jill Kwan
The month of September sees even bigger things coming Reuby's way. For the entire month, he will be 987FM's Rising Star, and Lush 99.5FM's Artist of the Month.


Last September 9, Warner Music Singapore released Reuby's debut self-titled album.
Says James Kang, A&R Director of Warner Music Singapore, "Reuby has a unique tone to his voice that sets him apart from other local artists I've heard in the past years. His singer-songwriter style brings to mind the sincere vibe of James Morrison and Jason Mraz. His compositions & lyrics are strong beyond his age. At only 18, he is an amazing talent who is set to be Singapore's next big thing."
About Reuby
ADVERTISEMENT - CONTINUE READING BELOW
Despite a mere 18 years of age, Reuby's vocal quality and songwriting skills reflect a uniquely old soul that sets him distinctly apart from his counterparts of the same generation. It was exactly this factor that saw him stand out in his friend's audition clip – where he played a supporting role of guitarist and duet partner – eventually leading to his "accidental" discovery by Warner Music Singapore.
Born and raised in Singapore, Reuby has since young been passionate about music – heavily influenced by his mother, a piano teacher. He is adept at both the piano and guitar, the latter of which was self-taught.
2014 marks a big year for Reuby, who has been home-schooled all his life, and sees him entering an educational institution for the very first time. He is currently pursuing a Diploma in Music at LASALLE College of the Arts.
The future burns bright for Singapore's most promising new singer-songwriter. A newly discovered gem with a heart full of soul, Reuby is set to take Asia by storm.
Reuby will be going to Manila on February 4-7 on a promo tour, doing various radio and TV appearances as well as a media showcase on February 5, 2015.
You can check out his single "My Sunshine" on Spotify and a special acoustic performance of "My Sunshine" on Youtube