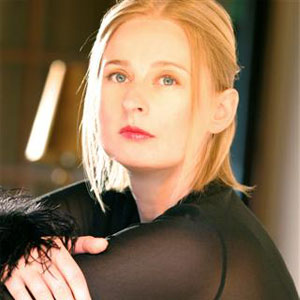 ---
Having been in and out of the country seven times already, not a few are already quite familiar with pop jazz chanteuse Julia Fordham.
This is not to say, Filipinos have grown weary of her. On the contrary, local music enthusiasts seem to have only grown more enamored with the singer. This was very much evident in the shows she did recently courtesy of Ayala Malls.
Performing her well-known songs to a receptive bunch of mixed age, Julia looked very much happy with the treatment she got. "Thank you...thank you...you've been very wonderful," she exclaimed more than once.
During Julia's February 6 press conference at the Glorietta 4 Activity Center, she basically said the same to an adoring media throng. "This is the main reason why I always love to come back to Manila: the warmth and the love of the people," she said.
Well, Filipinos might be finicky with their music, but they sure could be quite loyal.
ADVERTISEMENT - CONTINUE READING BELOW
The British singer-songwriter burst into the music scene in 1988 via the international hit "Happy Ever After." It was followed by the critically acclaimed album Porcelain, which included popular tracks such as "Manhattan Skyline" and "Lock and Key."
Since then, Julia developed a long running love affair with Filipinos who seem to have identified well with her "easy to digest" music and her warm cooing voice.
She went on to release more hit songs such as "Love Moves in Mysterious Ways" and "Invisible War," plus more acclaimed albums like Baby Love, a precious collection of songs inspired by her daughter Marley Rose.
The Filipinos lapped it all up, even as local stars such as Nina and MYMP kept doing covers of her songs.
Surprisingly, Julia is very much aware of all these inasmuch as seemed to have reserved a space in her heart for local musical goings on.
"Yes, I heard of Nina, she really is good. Well, Filipinos are really excellent musicians. I know a lot of them already, actually. I've heard of Jaya, who has a wonderful Anita Baker-like sound. Of course, there's Toti [Fuentes], who's an excellent jazz musician in his own right. Toti and I go back a long way."
ADVERTISEMENT - CONTINUE READING BELOW
No doubt, her admiration for the jazz musician became the basis why Toti became the organizers [and Julia's] first choice as musical director for the diva's current sojourn.
Julia has recently just completed her tenth album called China Blue, a jazz record overflowing with original audio gems she wrote herself and produced and arranged by the talented multi-instrumentalist Grant Mitchell.
Released through the newly-established internet company, NovaTunes, China Blue contains two rerecorded songs from the "Porcelain" album: the newly-arranged title track "China Blue," which was available only in the UK then, and "For You Only For You," a gloriously simple track featuring Julia's divine voice accompanied by the piano and the violin. It also has the exquisite "I Want to Stay Home With You," a track from the Baby Love EP.
Explaining her move to release songs via digital download, Fordham says, "It is the way to go nowadays."
"The industry really has changed and it seems like the Internet has become very much a part of how we live and this extends to how we purchase music, so, it is with enthusiasm that I embrace this direction."
ADVERTISEMENT - CONTINUE READING BELOW
Catch the jazz diva as she sings the new songs from her latest album, China Blue, plus her smash hits "Love Moves in Mysterious Ways" and "Invisible War" at the Ayala Center Cebu's South Surface Parking Area on February 13, 6:30 pm and Greenbelt 3 Park on February 15, 8 pm.
For inquiries, please call concierge number: Alabang Town Center 842-2782, 772-1860; TriNoma 901-3000; Glorietta 752-7272; Ayala Center Cebu (032) 231-5342 loc. 324; and Greenbelt 757-4853.