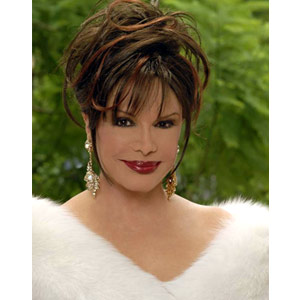 ---
America's Sweetheart of Songs Ms. Connie Francis comes to Manila for a much awaited one-night engagement to celebrate Valentine's Day with her loyal Filipino fans.
Ms. Connie—the legendary icon of beautiful hits such as "Wishing It Was You," "Where the Boys Are," "My Happiness," "Who's Sorry Now," "You Don't Have To Say You Love Me," "Malagueña," "Al Di La," "Mama," "High Noon," "Where Is Your Heart" and many more—will be at the Araneta Coliseum on February 14, 8 p.m. for her Greatest Hits Show, guaranteed to bring everyone back into the throes of love back in the '50s and '60s.
Concert producer Steve O'Neal promises that the The Connie Francis Greatest Hits Show will be a rare treat for generations of fans from 16 to 60. Connie will be backed up by a full Philippine orchestra during her Araneta performance. The lady singer, who has spanned decades of top-selling albums, is very excited to touch base once more with her Filipino fans, who have all warmly supported her through these years.
Connie's colorful career continues to charm people's hearts globally. She continues to delight audiences at sold-out performances at the most prestigious concert venues in the U.S. and around the world, including Carnegie Hall, Avery Fisher Hall, Lincoln Center, London Palladium, and Sahara in Las Vegas. Her tours take her throughout U.S., Europe, and the Far East. Her current bookings extend to Australia, Seoul, Tokyo, Manila, Malaysia, Singapore and Macau. In the United States, she is booked to perform in San Francisco, Philadelphia, Boston, Miami, New York, and New Jersey.
ADVERTISEMENT - CONTINUE READING BELOW
She has recently released The American Tour and European Concert live recording.
Connie will soon become executive producer of the movie based on her life story and best-selling autobiography Who's Sorry Now? scheduled to go into production this year. She is in the process of writing yet another autobiography.
Connie has no plans of slowing down and says she enjoys every minute of it. She says, "There is nothing like the feeling of a live audience and if I can still bring happiness to people I will continue to do so. I just love the people!"


Tickets to Connie Francis Greatest Hits Show at the Araneta Coliseum on February 14 are now on sale at all Ticketnet outlets (Tel. No. 911-5555) and the Araneta Coliseum box-office. For more info, you can log on to http://www.ticketnet.com/