A rare event was staged at Eastwood last February 14, 2015.


Loyal friends and followers of YouTube sensations Jam Sebastian and Michelle Liggayu (known as JaMich) mounted a special Valentine's Day tribute at the Eastwood Mall.
Before 7 p.m., a crowd gathered in front of the fountain area watching the hula hoop, poi and wand levitating performers. But it was just a warm up for a flash mob of blue and orange dancers emerging to groove to Pitbull's "International Love."
Over seventy dancers spread Valentine's Day cheer with performers in stewardess uniforms and breakdancers busting their moves. Then, clad in a sparkling red jacket and a smile on her face, Mich Liggayu appeared to join the festive scene.


This was Mich's time to shine and it was all for Jam Sebastian, her "better half" who is still currently keeping up his fight with cancer.
This is a JaMich Valentine, celebrating the unbreakable bond between Jam and Mich. The music changed to "You and I," the iconic song from the short film they did together. The video screen projected a montage of scenes of the romantic couple as Mich danced for the crowd and for her beloved. As the song ended, she had an impromptu selfie session with gleeful fans before stepping up on stage.
Jam, who is still confined in a hospital while undergoing cancer treatment, was present on video, blowing flying kisses to all the excited JaMich supporters, Meanwhile, Mich thanked all those who believe in their love and sent their prayers.
She told her fiance, "Tingnan mo. Look everywhere. Nandito ang lahat ng tao para sa iyo. Sabay-sabay tayo lahat: 'We love you Jam!'"
The crowd enthusiastically screamed their compliance.
Representatives of Feta Traveldepot were on stage to show their support. Sharon Perez, executive vice president, presented Mich with a three-day trip to Bali, Indonesia for the couple while president William Amorsolo II awarded the pair with a travel agency business package.
Sharon said, "We're really hopeful that he's going to get well. They love to travel; it's something that they love to do so what could be a better business than a travel agency, 'di ba? Tuturuan namin sila from beginning to end."
"I think this is a Valentine with a twist," Sharon continued.
"Yes, there's a little struggle but there's always a glimpse of hope and we always have to look forward. Kanina nga nung tinanong sa amin kung paano siya makakapag-Bali but we're like, 'Yes, he will.' And we believe in that."
President William concluded by saying, "Jam and Mich, you guys are really a loved couple. We surely hope that you enjoy the trip as well as the business that we provided to you."
Almost tearful with the overflowing show of support, Mich gushed, "Sobrang blessing ito para sa amin kase dati po, nung sobrang healthy pa si Jam, pareho naming gusto ng business. Ito siguro yung binigay ni Lord na business for us. Nakakatuwa; sobrang opportunity for us."
As for the Bali trip? "Isa siya sa mga bucket list ko na puntahan. Kaya sobrang thank you sa Feta Traveldepot for giving us the chance na makapunta do'n."
When asked why she picked a flash mob to surprise Jam with, Mich answered, "Kasi po siyempre mas madami ang tao, mas madami ang love and prayers 'yan.
"And 'pag nagsama-sama tayo together, sobrang magiging powerful 'yan. And nakakatuwa kasi yung Feta Traveldepot and ang Eastwood po, tinulungan kami para dito para maging possible itong event."
Adding the song You and I to the performance was a given. "Yun po kasi yung first short film po namin, yung 'By Chance,'" Mich explained.
"Yun po yung official soundtrack na ginamit namin. So nagkaroon din kami ng dance craze 'tapos, pagpapatugtog yun, para po alam nila na Jamich 'yan. Nakakatuwa po."
As to the future of Jamich, Mich says, "Sa ginawa namin para kay Jam, sana magkaroon pa siya ng hope na magpalakas kasi pareho naming gusto mag-travel so sana some day soon makapag travel kami together."
When that day comes and the two have finished their stay in Bali, they plan to continue exploring the world.
Mich adds, "Plano po namin talaga mag-Japan sa Asia. Pero kung sa mas malayo po, dream ko talaga sa Paris, sa France, 'yan."
The story of Jam and Mich is a sweet story with a tinge of tragedy. Mich's father, Christopher Liggayu, said that Jam is still preparing himself for his chemotherapy but being around people gives him strength.
He talked about when Jam had visitors.
He narrates, "Four hours, five hours na nagsasalita siya. But that's very unlikely kasi masakit for him to talk and masakit for him to eat. And dun nung time na 'yon nung maraming tao, kain siya nang kain. So itong ginawa namin for him talaga para masaya. Nae-excite siya. Yung boost ng morale nando'n."
That sentiment is echoed in Mich's words to the fans present.
Mich says, "Sa JaMich family, sobrang thank you. Alam nila kung gaano naka-grateful na naging part sila ng buhay namin kasi sobrang pagnandiyan sila, naramdamramdam namin ni Jam yung love nila."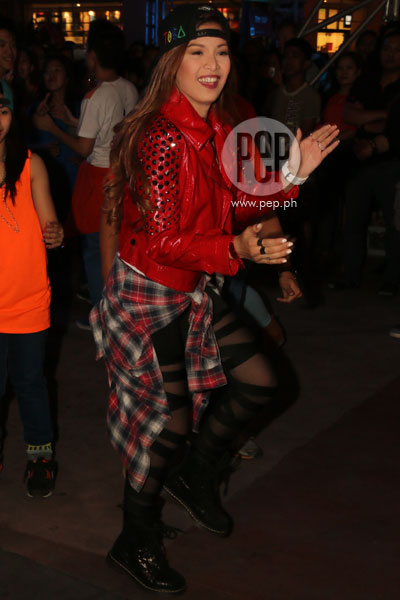 Mich Liggayu