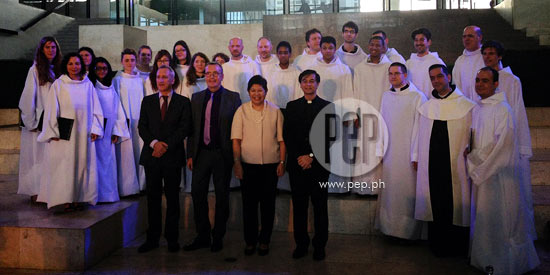 ---
Just in time for the start of the Lenten Season, the Gregorian Choir of Paris brings the tradition of sacred singing of the Gregorian chant as they perform in Ayala Malls and community parishes this month.
The globally renowned group founded in 1974 performs repertoires that center on the Virgin Mary. The choir has twenty-six male and female members from all over the globe including Russia, France, Slovak Republic, Colombia, Germany, Madagascar, and Republic of Korea.
PEP.ph (Philippine Entertainment Portal) spoke to Pascal Marsault, the choir's organist, during the press launch at Greenbelt 5, Makati City.
"Our purpose is to make people discover the sound of Gregorian music," Pascal said. "And maybe many of them to meet this tradition which is very old. The oldest manuscripts are from 9th century. We want to continue this Occidental tradition. When we study Gregorian chant, we realize we are in a long, long tradition of spirituality, music, and peaceful expression. It's one of the best ways to sing to God."
ADVERTISEMENT - CONTINUE READING BELOW
Gregorian chant is liturgical music performed during Roman Catholic masses, a tradition that began in Europe dating back to 9th and 10th centuries.
Speaking at the launch, Reverend Ted Torralba noted the importance of continuing Gregorian chants even outside churches. "Performances of Gregorian chant in non-traditional settings such as the malls are supported to gain traction for its promotion by publicizing the Gregorian chant as a privilege form of prayer one can utilize especially in the world's market place," said the reverend, who also serves as the executive secretary of the Permanent Committee for the Cultural Heritage of the Church.
While most of the choir members are students of Gregorian music in Paris, some belong to different professions like architecture, engineering, real estate, and insurance. Two members are priests. Pascal noted that while all of them are Christians, being a Catholic is not a requirement to join the group.
ADVERTISEMENT - CONTINUE READING BELOW
The choir received an invitation from the French embassy and Alliance Française de Manille, and together with Ayala Malls, they are set to go around the country to perform Gregorian hymns.
Listen to their concert Virgo Mater Gloriosa at the following Ayala Malls: February 18 at the Alabang Town Center (7pm); February 22 at Ayala Center Cebu (7pm); February 25 at Centrio Mall Cagayan de Oro (6pm); and February 27 at Abreeza Mall Davao (6pm).
The Gregorian Choir of Paris will also share their repertoire and perform the Sacred Liturgy in Latin in its natural setting during masses in different churches around the country: Greenbelt Chapel in Makati (February 20 at 7:15 am); Cebu Cathedral (February 20 at 6 pm); Tagbilaran Cathedral in Bohol (February 23 at 5 pm), Nazareno Church in Cagayan de Oro (February 24 at 5:30 pm) and Sacred Heart Parish in Davao (February 26 at 5:30 pm).
A concert titled In Civitate Dei (In the City of God) will be performed at San Agustin Church in Intramuros, Manila on February 19 at 7pm. Supported by the SSI Group Inc., the Gregorian Choir of Paris is set to sing a special repertoire with Monsieur Marsault playing the church's 18th century Spanish baroque organ, the oldest existing organ in the country.
ADVERTISEMENT - CONTINUE READING BELOW
The choir will also conduct a chorale workshop with the acclaimed Loboc Children's Choir in Bohol on February 23 and a workshop titled "Gregorian Choir of Paris: Celebrating the 450th anniversary of the Christianization of the Philippines" with Xavier University on February 25 in Cagayan de Oro.