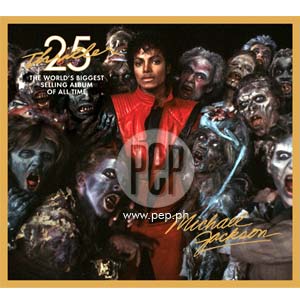 ---
SONY BMG Music Entertainment celebrates the 25th anniversary of Michael Jackson's Thriller, the world's biggest-selling album of all time, with the new Special Collector's Edition package—Thriller25.
Originally released 25 years ago, in early December 1982, Thriller, Michael Jackson's sixth solo album and second with producer Quincy Jones, rocketed the former child-star lead singer for the Jackson 5 into the stratosphere of international superstardom. In 1985, the Guinness Book of Records named Thriller the Best Selling Album of All Time, an achievement that remains unsurpassed to this day.
In his special video message released by SONY BMG, the 49-year old singer gives this message for his fans everywhere: "It's hard to believe that 25 years ago Quincy Jones and I embarked on an album named Thriller. There is still much for to come for Michael Jackson. My passion for music has never stopped. It's my hope that Thriller continues to live on for each new generation to discover."
The Thriller 25th Anniversary Edition features the original tracks digitally remastered and new 2008 collaborations with Will.I.Am, Akon and Fergie as well as a new remix of "Billie Jean" from Kanye West.
There are seven bonus tracks including five collaborations with today's hottest performers: "Beat It 2008" with the seductive new vocals by Fergie; a new Kanye West remix of "Billie Jean"; a new 2008 version of "Wanna Be Startin' Somethin'" with Akon; Will.I.Am remixes of "The Girl Is Mine" and "P.Y.T."; and "For All Time."
One of the highlights is a rare unreleased cut from the original Thriller recording sessions, which provides a sublime and fitting close to this new, definitive edition of Thriller.
As an added bonus for fans, Thriller 25 includes a DVD featuring Michael Jackson's groundbreaking short films "Thriller," "Beat It," and "Billie Jean." It will also feature Michael Jackson's Emmy-nominated breakout performance of "Billie Jean" from the legendary Motown 25 television special (first broadcast on May 16, 1983 when the world saw the moonwalk for the first time).
ADVERTISEMENT - CONTINUE READING BELOW
Through this phenomenal record, Michael introduced the "robot" and the "moonwalk" into the international lexicon of clubbing dance moves via the pulsing sounds of Thriller. He revolutionized all aspects of mainstream pop culture—from radio airwaves to the newly emerging art form of music videos—becoming the world's most popular entertainer.
Named the "Most Successful Entertainer of All Time" by the Guinness World Records, Michael Jackson is among the most highly acclaimed and influential artists in pop culture. He was named the World Music Award's Best-Selling Pop Male Artist of the Millennium and received the American Music Award's Artist of the Century Award. He has been inducted into the Rock & Roll Hall of Fame twice: in 1997 as a member of the Jackson 5 and as a solo artist in 2001.
The Thriller 25 CD/DVD is now available at Fully Booked and Odyssey Record Stores in two Special Collector's Edition package: a standard version with a new "Zombie" rainbow holographic cover with a 20-page booklet and a deluxe edition in a hard-bound casebook format with a 48-page booklet. Grab your copy now only from SONY BMG Music Entertainment.