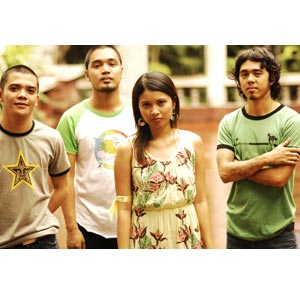 ---

Since coming back with their major label debut Todo Combolast year, Moonstar 88, like the album title, has literally gone full blast.Praised by critics and music insiders with their craftily arranged songs andeasy listening yet spunky feel, singles from their record like "Tadhana" and"Di Kasi" also garnered heavy airplay in radio and music video stations allover the country. Their latest "Migraine" is another promising single that willbe another listener favorite this year.
The band—composed of drummer Bon Sundiang, bassist PaoloBernaldo, guitarist Herbert Hernandez and vocalist/guitarist Maycehlle Baay—continues their explosion of great combo as they kick off the Todo ComboBar Tour on Friday, February 22 at Hard Rock Café, Makati.
This will befollowed by gigs at Big Sky Mind, E. Rodriguez, Quezon City on February 26(Saturday), Off The Grill, Timog Quezon City on February 29 (Friday), Route196, Katipunan Ext., Quezon City on March 6 (Thursday), Capones, Makati onMarch 7 (Friday) and Bagaberde, Pasig on March 14 (Friday).
The tour promisesto be more intimate and pure, and fans can get to know more ofMoonstar 88's music. Fans can also hear songs from latest album Todo Comboduring the tour.
Todo Combo Bar Tour is presented in cooperation withMellow 94.7 and Sony BMG Music Entertainment. Their album is still out in CDsat leading record stores.