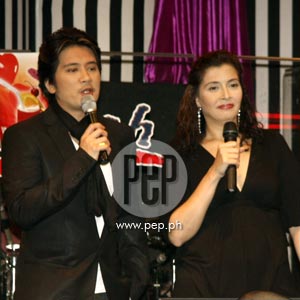 ---
It was a night of fun and laughter for the audience that watched Janno Gibbs's post-Valentine concert last February 15 at Zirkoh in Timog Avenue, Quezon City.
To spice up the night, ladies who were once linked to Janno appeared in his concert but a special portion was dedicated to his wife Bing Loyzaga.
Although the main show started at around 1:00 a.m., Janno kept the audience interested by starting off with an '80s song titled "Crazy Little Thing Called Love," which was popularized by the English rock band Queen.
To keep up people's energy, PEP (Philippine Entertainment Portal) blogger John "Sweet" Lapus was called in for his own portion where he performed as a stand-up comedian. He recalled his past experiences with a man he truly loved. Then, he invited someone from the audience named Mon to join him onstage. It was a good thing that the guy was a good sport and could deal with Sweet's funny green jokes.
After this interactive segment, Janno came back and performed romantic songs such as "Panalangin" and "Magkayakap sa Dilim" of APO Hiking Society, "Right Here Waiting" of Richard Marx, and "Wait for You" of American Idol finalist Elliott Yamin.
As he ended his second set, Janno introduced the next performer by saying, "Para naman masiyahan ang mga lalaki...here's the EB Babes!"
The all-female dance group of Eat Bulaga! was one of the most-awaited numbers of the night because of the presence of Lian Paz, who was once linked to Janno. The group performed a sexy dance and later on as back-up dancer for Janno while he was singing "Shake Your Bon-Bon" of Ricky Martin.
"DON'T LIE TO ME, SWEET." This was followed by "Don't Lie To Me," which was inspired by Showbiz Central's segment with the same title. Janno was put on the hot seat as wires for the lie detector machine were placed around his body.
ADVERTISEMENT - CONTINUE READING BELOW
Showbiz Central host Sweet could not think of any new questions to Janno so he asked the audience to suggest questions for Janno. A member of the audience shouted, "Nagkabalikan na ba sila ni Bing Loyzaga?" But John answered for him, "Hindi nanonood ng Showbiz Central! Nagkabalikan na nga, last year pa!"
Since there were no controversies plaguing the SOP host, John asked Janno simple questions like "Totoo bang nagparetoke ka ng ilong?" No, he did not. One intriguing question was, "Totoo bang may namagitan sa inyo ng mga babaeng na-link sa iyo pero dineny mo?" Janno replied honestly, "Yes."
The lie detector agreed with Janno's answer but the actor-singer refused to give names. "Sa akin na lang yun," Janno pleaded. A role reversal took place when took it was Sweet's turn to be in the hot seat. Janno even quipped, "Para naman makaganti ang mga tao sa 'yo. Palagi na lang ikaw."
Janno asked the comedian, "Sweet, totoo bang may ka-holding hands ka kahapon [February 14]?"
It took a while before the comedian answered, "Alam mo hindi na kita sasabihan ng sikreto. I hate you." Then, he added, "Yes! Yes! Wala, hindi [siya] artista! Binayaran ko ng P1,500 kasi Valentine's Day, kawawa naman ako, para umabot lang."
Then, Janno followed this up with his own intriguing question, "At any point in your life, nagkaroon ba ng panahon na tumira ka rin ng babae?"
"No! Never!" the openly gay John shouted. But the lie detector disagreed with his answer. Zirkoh was then filled with loud laughter from the audience.
JANNO'S GIRLS. Aside from Sweet and EB Babes, Janno's other special guests were his wife Bing Loyzaga and former onscreen partner Manilyn Reynes.
Manilyn did a solo performance of her hit song "Sayang na Sayang." Then, she did a duet with Janno for the '80s song of Atlantic Starr titled "Always."
ADVERTISEMENT - CONTINUE READING BELOW
Bing joined Manilyn onstage to bash Janno. The helpless comedian just answered the two ladies with a parody of Shamrock's "Alipin." Part of the lyrics of the song goes: "Ako'y tigilang niyo mga bruha kayo / Bakit ba ginuest ko pa kayo dito / Ayos lang kung ganyan na lang / Kung ganyang lang, kayong dalawa ay hindi ko babayaran."
When Bing was left onstage, she showed her skill in singing when she performed Rihanna's popular song titled "Umbrella." Her husband joined her onstage as if to prove that he and Bing are really back in each other's arms. The couple even did a duet with Barbara Streisand's "I've Finally Found Someone."
Finally, Janno performed '80s dance songs for the grand finale of his Valentino concert at Zirkoh.