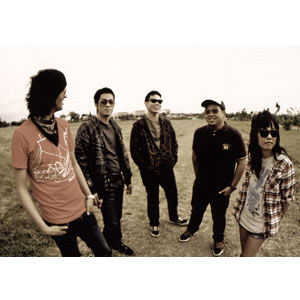 ---
It's been ten years since ex-Eraserheads drummer Raimund Marasigan hatched a plan with good friend and then A&R man Diego Castillo to form a barkada band tentatively named Sandwich. Raimund's initiative—beyond playing various types of music that would satisfy his eclectic taste—was simply to have fun and temporarily escape the worsening tension brewing inside the Eraserheads camp.
As soon as the idea was "half-seriously" mapped out, Raimund and Diego recruited then NU 107 programming chief Myrene Academia and ex-Teeth drummer Mike Dizon to complete the band's nucleus. Touted as the official leader, Raimund was very vocal in expressing his reservations in handling the vocal chores. Fortunately, Raimund stumbled upon a young Atenean by the name of Marc Abaya through a college band competition. Impressed and taken by Abaya's passion, Raims invited Marc to join Sandwich as its frontman.
1999 saw the release of the band's debut album playfully titled, Grip Stand Throw, under BMG [now Sony-BMG] Records. True to the members' varied tastes, the album served as a testament of the band's wide array of influences. Remarkably, and despite its seeming aimless attack, Grip Stand Throw came across as a cohesive body of work.
Two years later, the band released Four Track Mind, which, compared to its predecessor, was an eclectic mix of sound and various influences. In 2004, the band took the independent route and recorded Thanks To The Moon's Gravitational Pull. The album boasted well-crafted songs such as the infectious "Two Trick Pony," the wistful "Masilungan," and the arena-rocker "Nahuhulog."
The success and praises reaped by the album, however, did not prevent frontman Marc Abaya from leaving the group to pursue his career as an MTV VJ. Marc also opted to concentrate fulltime in his other band, Kjwan—a unit he formed together with close college buddies.
Left with no choice, Raimund Marasigan finally relented and embraced the role vacated by Marc. Sandwich then hired Chicosci axeman Mong Alcaraz to complement Diego's guitar duties. The inclusion of Mong was also necessary to enable Raimund to focus more in singing and performing.
ADVERTISEMENT - CONTINUE READING BELOW
Sandwich's new lineup debuted on record in 2006 via Five on the Floor under EMI Philippines. Five on the Floor saw the band breaking new territories in the market. The album's first single, "Sugod," a straight-ahead "Juan dela Cruz homage song," as Raimund puts it, was probably the most commercial song penned by the band. As a result, the country caught on and Sandwich conquered a huge fan base outside the usual indie-rocker audience.
LEAVING THEIR MARKS. Ten years after and Sandwich is still standing mightily proud, having been able to hurdle adversity brought about by lineup changes and shifting fads.
To celebrate their tenth year, Sandwich saw it apt to dish out album no. 5 titled Marks The Spots.

All the band members conceded that they never expected Sandwich to last this long. "Considering na nagsimula lang siya as parang Raimund's project band," Diego pointed out.
More than the music and that insatiable desire to play before an audience, it was friendship that glued the band together.
"We've always been a barkada band and close friends talaga kami right from the start," shared Raimund who is also confided that he's still uncomfortable in being regarded as the band's official leader.
Ten years of playing and churning out songs did nothing to deteriorate Sandwich's shared passion and friendship. In fact, the new album only reaffirms the group's grit and commitment when it comes to their art.
"Ganoon pa din," smiled Raimund. "We still incorporate our old and new influences in this album. Although I'd like to say na mas cohesive 'to," he added.
Fittingly, Marks The Spots does have that celebratory mood written all over it. Last year, Sandwich embarked on a number of out-of-town and even overseas gigs. But not all were work related—some of their trips were simply to have fun and to unwind away from rock n' roll madness.
ADVERTISEMENT - CONTINUE READING BELOW

"It's a travel album without sounding like a travel album," explained Raimund.
"Hindi naman siya kasi blatant na 'tara biyahe tayo' or 'uy, nagpunta kami sa ganito.' It's not like that, ano lang siya parang most of the inspiration, 'yong mga natutunan namin sa mga trips, 'yong saya inspired us to write without necessarily talking about the experience or kung anong nakita namin."
Sandwich has proven that holding a rock band together doesn't necessarily boil down to musical chutzpah and virtuosity. Friendship and trust, above anything else, are the main ingredients.
"Mas madalas pa nga kaming tumatambay na magkakasama kesa mag-practice," laughed Raimund.
And they've been doing that successfully for 10 solid years.