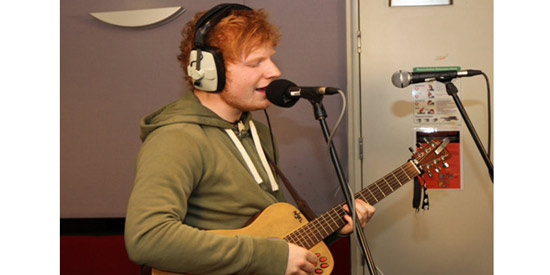 ---
The British Invasion of Manila intensifies this March when Ed Sheeran takes over the SM Mall of Asia Arena on March 12, 2015.
The critically-acclaimed singer-songwriter and musician, known for his hit singles "Thinking Out Loud", "Drunk", and "Give Me Love", started producing his own records independently as early as 2005 until impressed Jamie Foxx so much in 2010.


Sheeran finally burst into the international scene in 2011 when he performed live at "Later...With Jools Holland".
Collaborations with One Direction and Taylor Swift further boosted Sheeran's work, while his song "The A Team" got a nomination at the 2013 Grammy Awards. By the end of 2014, Spotify recognized Sheeran as the most-streamed artist in the world, with a record of 860 million streams.
The Manila leg of Sheeran's X tour was already sold out as early as November, which prompted Music Management Live (MMI) to release extra tickets a few days later.
We can't think of songs of his that we don't like, but here are our top choices for his concert on March 12.
ADVERTISEMENT - CONTINUE READING BELOW
1. Thinking Out Loud
It goes without saying that Filipinos are crazy about well-written love songs that they can imagine dancing to on their wedding day, which explains why this romantic ballad became such a hit, and true enough, is now a favorite for wedding playlists. Sheeran said himself that this track is his favorite, and called it the only happy song in his second album.
2. I See Fire
Following the tradition of having a song at the end of every Lord of the Rings and The Hobbit films, director Peter Jackson chose Sheeran to do the honors for The Desolation of Smaug in 2013, thanks to the recommendation of his daughter Katie. What's amazing about this haunting song was that Sheeran wrote and recorded it immediately after seeing the film, and even played the violin for the track even if he had never done it before. Inspiration truly paid off as the song peaked at the top spot of the charts in New Zealand, Australia, Norway, Sweden, and the Philippines.
ADVERTISEMENT - CONTINUE READING BELOW
3. Lego House
Sheeran uses Lego as a metaphor for relationships in this single, but it sure didn't crumble as easily as a Lego structure could. With lyrics that go "I'm out of touch, I'm out of love/ I'll pick you up when you're getting down/ And out of all these things I've done, I think I love you better now", this song is as honest as it could possibly get.
4. You Need Me, I Don't Need You
Sheeran picks up the tempo and raps like a seasoned pro in this fast track, which came out as his second official single in 2009. It was also a confident self-introduction, as he easily raps, "I sing and write my own tune and I write my own verse/ Hell, don't need another word-smith to make my tune sell", considering that this was written during the time that he was still producing EPs on his own.
ADVERTISEMENT - CONTINUE READING BELOW
5. Give Me Love
This track about longing is possibly one that could give you a bad case of LSS, especially with Sheeran's chants of "My, my, my, my, oh give me love" reverberating all throughout the song. He wouldn't really need to sing this for audiences to give him love, but it's a beautiful song that would be a pity to miss.
6. Sing!
Sheeran departs from the folk vibe of his compositions with this collaboration with Pharrell Williams, but this R&B-pop tune will surely get the crowd all fired up. He might sound more like Justin Timberlake here, but with lyrics that go "I already know she's a keeper/ Just from this one small act of kindness / I'm in deep shit if anybody finds out", it's still Sheeran, without a doubt.
7. Drunk
Getting drunk over a lost love is always depressing, but Sheeran's take on it has a more positive spin—complete with a more upbeat tune and a video that features a cat taking Sheeran out to get over the heartbreak. The song was the songwriter's fourth successful hit in the UK, as it climbed the charts steadily and peaked at the ninth spot in 2012.
ADVERTISEMENT - CONTINUE READING BELOW
8. Afire Love
Nothing feels more raw than Sheeran's tribute to his deceased grandfather, who suffered from Alzheimer's disease. And while it is about death and grieving, it still retains a bit of romance, especially as Sheeran sings about his grandparents' powerful love and hearts that "will beat as one/ And we're set alight, we're afire in love."
9. Don't
This track almost didn't make it to Sheeran's second album because it was "too personal", but thankfully, people convinced the singer-songwriter that this song about being cheated on was actually good. And it really is, as we hear subtle but raw anger in Sheeran's chorus: "Don't f--- with my love/ that heart is so cold/ all over my home/ I don't wanna know that, babe".
10.The A Team
You'd expect a song about addiction to be really dark and angsty, but Sheeran's take is actually a folk ballad that starts off upbeat and builds up before ending on a morose note. The singer-songwriter came up with the song after a gig at a shelter, when he said he just started "writing a lot of lyrics." It doesn't exactly romanticize drugs, but it certainly tugs at the heartstrings.
ADVERTISEMENT - CONTINUE READING BELOW