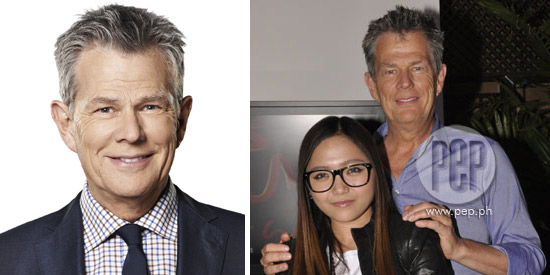 ---

David Foster still believes Charice still has what it takes to become a big name in the global music industry.

It was in October 2010 when the 16-time Grammy winner told members of the Philippine media that he wanted to build up the Filipina singer to become a "true Asian world superstar."

(Read: David Foster aims to build up Charice as the "first true Asian world superstar")


This 2015, David still has high hopes for his godchild whom he describes by saying, "She's like a Josh Groban. She's like an Andrea Bocelli. She's like a Michael Bublé."

In a phone interview with PEP.ph (Philippine Entertainment Portal), David pointed out that he is optimistic about the future of the Filipina singer.

"I still do believe in Charice. It's been seven or eight years since I met her and I have yet to find a singer as good as her in my life.

"She is a spectacular singer and she's better than you can even imagine in your life."

The Canadian songwriter-producer even hinted that he and Charice might get to work with each other again in the future.

"She's one of a kind and, of course, everyone know she's had personal problems.

"I am really hoping that she will get through those personal problems and come out the other side and take another run for the gold.

"She got so close and I think that she's still young enough to make a play for the big time again.

"Hopefully, it will be with me."

In a span of over four decades, David has received 16 Grammy Awards, including three for Producer of the Year. He has also bagged an Emmy Award, a Golden Globe, and three Oscar nominations for Best Original Song. In 2013, he got his star in the Hollywood Walk of Fame.

He has worked with international singing icons such as Whitney Houston, Celine Dion and Madonna, among others.



ASIA'S GOT TALENT. David is one of the celebrity judges of Asia's Got Talent, which will air its pilot episode this Thursday, March 12. The talent search will debut at 8:05 p.m. on AXN, with subsequent episodes every Thursday at 8:30 p.m.

This Asian edition is the 63rd version of Got Talent, which won the Guinness World Records title for being the world's "Most Successful Reality TV Format" in 2014.

It will be aired across 20 territories including South East Asia, South Korea, Hong Kong and Taiwan.

Aside from David, the other judges are former Spice Girl Melanie C (aka Sporty Spice), Indonesian rock icon Anggun and Taiwanese-American pop idol Van Ness Wu of F4 fame.

David says he has "great chemistry" with all of the judges but he was particularly fond of Van Ness Wu.

"I had the best time with him," said David about the actor who played Mei Zuo in Meteor Garden.

"He really helped me navigate the dancing talents. He just knows so much about dancing. I look to him for a little guidance when it comes to dancing."




CLASHES WITH FELLOW JUDGES. Even though David and the judges get along with each other off-cam, there are moments on the show when tensions would run high as they disagreed on what acts should or should not enter the next level.

When PEP asked David if he had clashes with other Asia's Got Talent judges, he candidly admitted, "I had probably one big run-in with one of the judges.

"You probably want to know the name of the judge, right?

"You have to watch the show to find out but we did disagree a lot about what was great and about what was not great."

He clarified that they didn't do it for TV ratings.

"We weren't trying to make sensational TV. We were just trying to do our job the best we could.

"One of the judges pushed the 'golden buzzer,' which is the lifeline and I thought it was such a wrong move.

"I really got upset about it that the act would be saved because I didn't think that act should be saved.

"We were trying to do our jobs and when you're trying to do a great job, there's obviously going to be a debate.

"We had some pretty tough debates."

In past interviews, David has mentioned that the next big superstar could come from Asia.

Does he think he will find him/her on Asia's Got Talent?

"I took this job fully expecting to find the next superstar...the next global superstar.

"Otherwise, I wouldn't have done it.

"I want to say that I was one of four judges who found the next Madonna...the next Rihanna...the next Sam Smith. And guess what? They're Asian!"



ADVERTISEMENT - CONTINUE READING BELOW