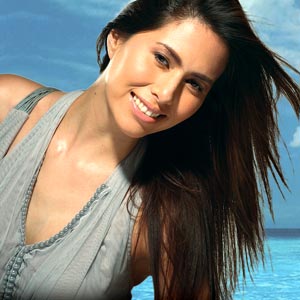 ---
She is, no doubt, a stunner.
Blessed with an alluring face that beguiles and a body that could make grown men cry (and young girls envious), Julia Duncan was born to face the klieg lights.
She has in fact already made a name for herself in the modeling industry where for over a decade now, she has been one of its more recognizable denizens; having done her fair share of magazine features and, of course, catwalk reviews.
Julia is not one to rest on her laurels even as she is now out to reinvent herself as a singer specializing in the musical genre called Latin Chill. Just recently released is her debut Sony/BMG album, Julia Duncan The Love Lounge.
ADVERTISEMENT - CONTINUE READING BELOW
"It wasn't planned. I was here actually for a vacation, and to visit my sister who is studying here. It just happened," narrated Julia during her February 29 album launch at Fully Booked High Street Bonifacio, The Fort, Taguig City.
The former model admits that singing is actually her first love. "I've been singing since I was little. Well, my dad influenced me a lot," she reveals.
Julia is the daughter of the late singer Filipino-American Theodore Duncan, who is well-known among local folk habitués, having been a regular at the legendary Hobbit House during the old folk boom.
So how was the transition from modeling to singing for her?
"I find singing more challenging. It's also fulfilling; fulfilling in the sense that it allows me to express my inner emotions, my passion. It's also exciting to be out there performing for people," says Julia.
Although her album contains a slew of cover tunes, Julia is proud to declare that The Love Lounge is unique and different.
"I'm doing a genre that is fairly new—Latin Chill. It fuses sexy Latin rhythms with the soothing sound of chill-out music."
ADVERTISEMENT - CONTINUE READING BELOW
And it is no conceptual marketing gimmick, says the sultry singer who counts Shakira, Karen Carpenter, and Vernie Varga among her idols.
"It's me, sweet, provocative, sensual...early on, I decided that if I am going to do this...getting into music, that is, I should be real. That any material I would do should reflect who I am and where I'm at. I'm glad that my label understood this and helped me flesh out an album that came out as beautifully."
Julia Duncan's The Love Lounge also highlights the songwriter in her.
"The album is not just about me as a singer. I am also introducing myself as a songwriter through a song in the album called 'Love is.' It's about my ideals, my dreams about life and love."


Other tracks in The Love Lounge include "One Hello" (a Randy Crawford original), Claire Marlow's "Till They Take My Heart Away," "Happy Ever After" (originally by Julia Fordham), "Everything But The Girl's ," "Cross My Heart," "Sunlight" by Kevyn Lettau, "Here's To Love," Des'ree's "Life," "Sailing" (a Christopher Cross original), Anita Baker's "Sweet Love" and "The Love Dance."
ADVERTISEMENT - CONTINUE READING BELOW
Soon, Julia is to embark on a tour that she promises to be as exciting as it is stirring. "I am raring to go out there and perform. I think I am ready."