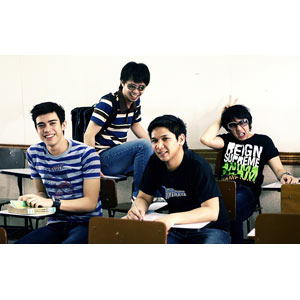 ---
Bouncing back after a seeming 'knock-out punch' is nothing new to battle-scarred rock group Rivermaya.
For years, the group weathered the worst, including the departure of key members and being dropped by their label. Yet, time and again, they have shown incomparable resilience, growing even bigger and stronger.
Last year, pundits thought the band over and done with when main songwriter Rico Blanco left the fold. Rivermaya once again proved them wrong.
The remaining members Mike Elgar, Japs Sergio and founding member Mark Escueta chose not to quit and instead continued fighting, not for themselves, but mainly for the fans who have been with them through all these years.
"This band have grown into something [whole that's greater than the sum of its parts]. Rivermaya is not defined by the members who make it up, but by the music it creates. And we are continuing on that premise—for the love of the music and for the love of those who keep on believing in the group," Mark once declared.
And so, here they are, back in the circuit with a new album dubbed Buhay, which features new member Jayson Fernandez.
"We feel invigorated. We feel like a new group again. Jayson brings in a great amount of enthusiasm that is truly contagious," Mark said during the February 28 launch held at the new 6underground in Pearl Drive, Ortigas Center.
Jayson, who came on board through a tight audition that involved over 500 aspiring vocalists, is still seemingly swamped, especially since he admits that he is still in the "adjustment phase."
ADVERTISEMENT - CONTINUE READING BELOW
"I still get star struck sometimes; these guys are, after all, my idols. I used to just listen to their songs over the radio, and now here I am, a part of the group. We are all adjusting, in fairness to the other guys. But I think we are on the right track."
Buhay contains 16 amazing tracks that belie the band's recent troubles, being as upbeat and tuneful as the group could muster. The album contains the songs "Nice To," "All For You," "Ligawan Stage (Nerbyoso Part 2)," "I Want You," "Checkmate," "A.M.," "Maskara," "Closer," "Sugal ng Kapalaran," "Restless," "Piping Tom," "Pure," "Hindi Ako Susuko," "Alone," "Kemikal Reaction," and "Sleep."
Says Japs Sergio, "I don't know. Nothing has changed much, I think. Song-writing wise, Rivermaya is Rivermaya. The trademark sound would always be there. Maybe with each member contributing more to the songwriting, and with Jayson coming in to add a new dimension, it exudes the 'feel' of being fresh."
When asked if everything is okay with Rico already, the group did not have a definite answer.
"I saw him once in Saguijo. We said 'hi', but we didn't talk much. I think it would be too showbiz, after all what transpired," admits Japs.

Mark Escueta adds: "We don't dwell on that anymore actually. Everything is going as planned, including our Asian sojourn so...I think it'd be best if we stick to the music at hand."
Judging from the excitement of the fans during the live performance, the band is well on its way to notching another stellar achievement in its colorful history.
ADVERTISEMENT - CONTINUE READING BELOW
Is Jayson ready for the fans?
"I know there'd be comparisons. But I am not coming in to replace anyone or filling in somebody's shoes. I could only be me. And I hope people would appreciate that."

Aside from releasing its new album Buhay, Rivermaya has recently been chosen endorse the clothing line, Human.
Indeed, the prolific OPM band is alive and kicking!