Performing in front of a live audience again after two years made Concert King Martin Nievera overjoyed during his one-night concert titled Martin Nievera: Live Again at The Theatre@Solaire on Saturday, June, 24, 2022.
READ: Martin Nievera shares lessons for young singers about career and personal life
Even though Martin did some online shows at the peak of the pandemic, he said that nothing beats interacting with his fans in person.
Martin's sold-out concert was also Solaire's first live show in two years.
"I'm so happy, so, so happy to see and sing in front of a live audience," Martin exclaimed at the start of the show.
"Living and breathing people altogether sitting next to each other, as you are. Not anymore in front a computer or a cellphone camera. Right? Isn't it nice?"
For his opening act, Martin performed Stephen Schwartz's "Corner of the Sky," Idina Menzel and Kristin Chenoweth's "Defying Gravity," Spiral Starecase's "More Today Than Yesterday," and The Friends of Distinction's "Grazing in the Grass."
"It's so's nice to be here once again singing live, in front of a live audience," Martin remarked.
"And finally, I get to sing in front of people sitting next to each other in more than just my boxer shorts, just as you know….you know? The suit and you get the boxer shorts and tsinelas, yes!
"Whatever words, that's exactly what we've been doing for the last couple of years."
Remembering the concert which he headlined with his ex-wife Pops Fernandez back in February 2020," Martin added, "That's like two years and four months, right?
"And now that we're back, it seems be like a first of many. Hopefully, many to come."
What made it more special was that part of the proceeds of his concert will be donated to a charity program.
"I have to say this, ten days from today, I celebrate my 40th year. Can you imagine?
ADVERTISEMENT - CONTINUE READING BELOW ↓
"Tonight, just notice, you are all part of this special evening. Along with the Rotary Club of Makati West, you have given children you don't even know the gift of life.
"These are children with heart diseases, and tonight you have given them a chance to live again.
"So as we are here at Solaire, singing live again, you've given these children another chance to live again. And that's why we're here."
Martin elaborated, "Every year in the Philippines, 20,000 babies are born with congenital heart disease.
"Now without the surgery, ten percent of these kids will die. Within a few months, ten percent will never reach adolescence and eighty percent will remain sickly for the rest of their lives.
"So, since 2004, Rotary Club Makati West has already helped fund over 900 surgeries. And by purchasing your ticket tonight on this show, you've given these children another chance to live again."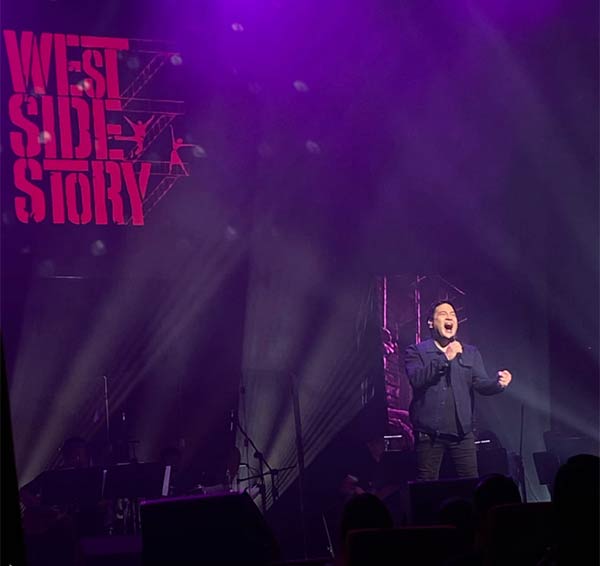 SERENADING THE CROWD WITH CLASSIC LOVE SONGS
Then Martin performed a medley of Frank Sinatra's classic hits "I Got You Under My Skin," "Witchcraft," and "Come Fly With Me."
The audience were thrilled when he also rendered his version orf Ric Segreto's "Don't Know What To Do," Basil Valdez's "You," and Nonoy Zuniga's "Never Ever Say Goodbye."
For his next set, Martin performed songs by Lionel Richie, an iconic R&B singer and judge of the popular singing competition show American Idol.
Recalling an unforgettable conversation with Lionel in the past, Martin said: "Let's pay tribute to him even though he doesn't even know who I am.
"I do have a chance to interview him though. He was so shocked. 'You don't even have a script. How you were able to do this?'
"I said, 'I am a huge fan. I love you.'"
Some of Lionel's hits that Martin performed at the concert included "Three Times A Lady," "Truly," "Easy," "All Night Long," and "Dancing On The Ceiling."
He also serenaded the crowd with classic Filipino love songs—"Ikaw Ang Aking Pangarap," "Ikaw Ang Lahat Sa Akin," "Ikaw Lang Ang Mamahalin," and "Ikaw."
For his next medley, Martin performed with his back-up singers, Brenan Espartinez, Monica, and Sue. They did a rendition of Stevie Wonder's famous songs "Sir Duke," "Isn't She Lovely," "You Are the Sunshine of My Life," and "Overjoyed" among others.
Another highlight of the show was when he dedicated "You Will Be Found" from the musical play Dear Evan Hansen for those who are facing difficulties in life.
He also sang "Put A Little Love in Your Heart" together with the children from the Gift of Life program of Rotary West Makati.
ON MAKING PEOPLE SMILE AGAIN
Toward the end of the show, Martin jokingly related how his twin sister Vicki Nievera got addicted to Kumu.
"I created a monster by the way. She hasn't stopped singing. She's on right now, you know that? She doesn't even care about making bangga my show. But that's okay.
"She's like Kumufied. She's on Kumu every freaking day, right? Even when there's no Kumu, she's kumued, right?
"We sang for 122 days, three hours a night. Just to keep people's company. Just to keep them, you know, focused on something else rather than 'When can we get out of this?' 'Am I gonna catch virus?'
"We tried to defocus everyone from that by making music and we did that 122 nights.
"And within those 122 nights, I received a song, a melody from Homer Flores. And I said, 'You know what? I'm gonna write a happy song. 'Coz I believe that happy days are nearby."
Then Martin said that he's determined to use his talent as an entertainer to make people happy despite adversities.
"I don't know what we're going through. When you read the papers, the news, I don't even watch the news. 'Coz nobody is smiling right now.
"But I said, because I believe in my people. And Filipinos? We are the blessing of the world. Believe me. I've been all over the world, and they won't even use their own people to deal with people.
"They put Filipinos in charge at hotels, restaurants... [They've got Filipino] nurses, doctors, architects, you name it.
"So, why don't we have that same winning attitude here, in our own country? So I made promise to myself that one day we will all find something to smile again about."
Martin's last two sets of medleys came from famous musical plays—"Maria" and "Somewhere" from West Side Story; "The Music of the Night" and "All I Ask of You" from The Phantom of the Opera and "Memories" from Cats.
Then he capped off his concert with some of his beloved hit songs "On The Right Track," "Please Don't Throw My Love Away," "Pain," "Be My Lady," "Say That You Love Me," "You Are My Song," and "I'll Be There."
To keep everyone inspired, his encore was a dreamy rendition of "What a Wonderful World" by Louis Armstrong.
Spotted on the audience were his longtime-girlfriend Anj del Rosario, Pastor Luigi Tabuena, and Rotary Club Makati West president Franco del Rosario.