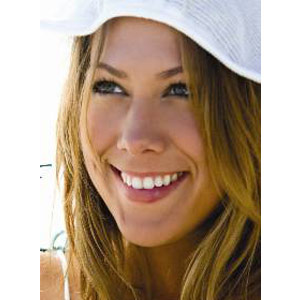 ---
Discovered through her Myspace account, Colbie Caillat (whose last name rhymes with "ballet") is in the Philippines to conduct her "Bubbly" tour at the Ayala Malls. Before she signed up with Universal Music, Colbie became the number one unsigned artist on MySpace for four successive months with over 10 million plays.
Her album Coco has been enjoying brisk sales, reaching a slot in the Top 10 of the Billboard Top 200 Album charts. Interest for the carrier single, "Bubbly" skyrocketed and peaked at No. 5 at the Billboard Top 100. It boasts an infectious melody and lyrics that go: "And it starts in my toes / Makes me crinkle my nose / Wherever it goes / I always know / That you make me smile / Please stay for a while now."

Colbie is coming to the Philippines to reciprocate the warm support that she has received from Filipino music lovers who have been crinkling their noses while listening and singing to her songs even before the official release.


Growing up in a musically inclined environment (Her father, Ken Caillat, co-produced Fleetwood Mac's Rumours and Tusk albums and later ran his own record label), Colbie is used to expressing her feelings through songs.


She draws inspiration from normal life occurrences like conversations with family and friends or reflections on her own life. For instance, her love of Hawaiian music is reflected in the song "Tied Down."
She explains: "I've been going to Hawaii twice a year since I was 12. At one point, I moved there for two months with friends and got a job and got a Rent-a-Wreck, went longboarding, it was lots of fun. I've always wanted to have a ukulele on a song. I just love that laid-back sound. Hawaii is a huge part of me."


Watch the California-based singer-songwriter as she roams around the Metro to reach out to her fans. Catch her Live at Ayala Malls on her first day in the Philippines on March 11 (Tuesday) at 7 p.m. at the Glorietta Activity Center.
ADVERTISEMENT - CONTINUE READING BELOW
With OPM's Soulchild, Julianne, as the front act, watch Colbie as she performs her hits in person. On her last day, March 12 (Wednesday) tune in at 3:00 p.m. to RX 93.1 for an exclusive interview of the bubbly singer.
Savor her last hours in the country by paying a visit to Ayala Mall's TriNoma at 7 p.m. for another live performance.


Grab the chance to get a hold of signed Coco albums on the two mall shows. The first 200 buyers of CD's get the option of going up on stage and meeting Colbie up close as she signs your copy or buy your own pre-signed copies at the venue.