Crosby, Stills & Nash (CSN) may not sound familiar among the present 21st century generation of rock buffs but, to the pre-internet 1970s generation of Baby Boomers, the three members of this folk rock super group have already made an instant impact on the music industry by helping steer rock to a more contemplative, song-oriented place.
Rock and Roll Hall of Famers Crosby, Stills & Nash—one of the most enduring musical partnerships of our time—are revered for their peerless vocal harmonies, inspired songwriting and musical virtuosity.


They exhibited these qualities during An Evening With Crosby, Stills & Nash, a historic, one-night musical event presented by Ovation Productions at the Smart Araneta Coliseum in Cubao, Quezon City.
The Manila leg is just one part of the legendary American trio's 2015 Asian tour (including several key cities in Japan as well as Singapore).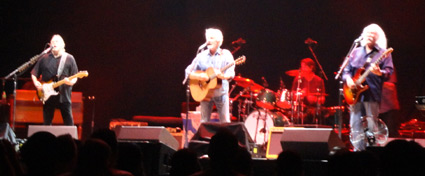 Most of the sizeable crowd that night were, like the septuagenarian performers on stage, in the 50s to 70s age group, with gray and thinning hair (I also spotted some legit long-haired hippies), but all looking forward to an evening of soft-rock songs and beautiful harmonies. The two-and-a-half hour long, 23-song concert promptly started at 8:30 PM with the beautifully touching Carry On, a song about the passing of Crosby's mother.
Many of the songs performed that night reflected the trio's political activism, strongly left-leaning views, and advocacy for peace, the anti-nuclear movement, and environmental awareness.


The Graham Nash-penned song "Chicago" refers to both the riots at the 1968 Democratic National Convention in Chicago as well as the trial of the "Chicago Eight," where protesters at the convention were charged with intent to incite a riot. Then, there's "Long Time Gone," a song composed by David Crosby in response to the assassination of Robert F. Kennedy.
"Wooden Ships," a cryptic, apocalyptic, anti-war song written in 1968 in a Crosby-owned boat named Mayan and a fiery workout for Stills, describes the consequences of an apocalyptic nuclear war. The anthemic, rousing "For What It's Worth," one of the most recognizable songs from the 1960s, was inspired by the first of the Sunset Strip riots in Los Angeles in 1966, an event that hit close to home for Buffalo Springfield band where Stills once played with.
Then there are songs such as "Southern Cross," which peaked at #18 on the Billboard singles charts in 1982. It is about a man who sails the world following a failed love affair. During the voyage, the singer takes comfort in sailing. The straight ballad "Just A Song Before I Go," which made it to No. 7 on the Billboard singles charts (the band's highest charting hit), is about leaving loved ones behind before going on a concert tour, probably England-born and raised Graham Nash's undercurrent of regret towards rootlessness.


"Strangers Room" is a questioning song about walking somewhere, that you never expected to be, then wondering where you're going to end up next.
The trio also rendered some sweet, comfy love songs such as the meditative "Guinevere," notable for its serene yet pointed melody and its unique lyrics, and "Helplessly Hoping" (a song about the pain of love), with its elegant, evocative and ever relevant lyrics.
Still's version of "Girl from North Country," its lyrics cloaked in a melancholy of aged regret, was better than Bob Dylan's original version. "Almost Cut My Hair," an anthem of rebellion and personal freedom which showed Crosby at his funkiest, featured a nearly hoarse but impassioned solo vocal from Crosby and some wicked guitar playing from Stills. "Déjà vu," an epic flashback jam, ebbed and flowed with some stirring Still solos.
Mass audience singalongs during the show were during "Our House," Nash's solo rendition of The Hollies 1966 hit "Bus Stop" (it reached No. 5 in the U.K. Singles Chart) and the encore songs "Love The One You're With" (No. 14 on the Billboard Top 100 in 1970) and the nostalgic "Teach Your Children" (as the song implies, a message to parents to teach your kids to be kind), written when Nash was a member of the Hollies. "Suite: Judy Blue Eyes," the final encore song, refers to singer/songwriter Judy Collins, Still's former girlfriend. The lyrics to most of the suite's sections consist of his thoughts about her and their imminent breakup.

The ever-capricious David Crosby, with his trademark flowing gray hair, walrus mustache rich, baritone voice and lovingly snide grin, had the strongest, firmest vocal presence of the three. The beautiful and hauntingly lyrical Delta, a lush and gorgeous song of extraordinarily high caliber, is one of Crosby's finest contributions.

Multi-instrumentalist and coarse-voiced Stephen Stills, the youngest (at 70) member of the group, showed some vocal wear but he remains as hot as ever playing a variety of guitars, being ranked No. 28 in Rolling Stone Magazine's 2003 list of "The 100 Greatest Guitarists of All Time" and No. 47 in the 2011 list. He could still reach and hit those high notes with his formidable guitar skills, particularly in the slow jam and bluesy bends of "Don't Want Lies."
Graham Nash, with his good, emotional but slightly squeaky voice, is the spryest of the three. Together with Crosby, Nash is one of the best song writers in rock music. With "To The Last Whale," the quintessential environmental track and an elegiac plea concerning the slaughter of whales, Nash hit his zenith as a creative writer.


His "Marrakesh Express," No. 28 on the Billboard 100 Hit List in 1969, incorporated Eastern influences. An ode to wanderlust for a hip generation that made itself at home anywhere in the world, Nash was inspired to write this song during a Moroccan vacation he took in 1966.
The trio were ably backed up by Todd Caldwell (Hammond B-3 organ), Steven DiStanislao (drums), Kevin McCormack (bass guitar), Englishman Shayne Fontayne (guitar) and Houston native and David Crosby son James Raymond (keyboard), their steady and organic playing providing the rhythmic pocket.


My only regret from this exciting blast from the past was that the counterculture anthem "Woodstock," written by former Nash girlfriend Joni Mitchell, wasn't played.


Crosby, Stills & Nash's sweetly confined vocals of the past may have a hardened edge to them now but, even as they occasionally showed their age (or maybe just rust), they still sound glorious nonetheless.