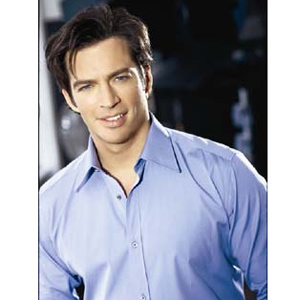 ---
If you were one of the lucky people who got to catch P.S. I Love You in the cinemas, you may have noticed that while Hilary Swank and Gerard Butler may have been leading the film, the star with the standout performance was none other than singer-actor Harry Connick Jr., who played the role of bumbling-yet-adorable Daniel.
On March 15, he will be performing in Manila for the first time to show off his true colors as the smooth and suave crooner. Harry Connick, Jr. and his Big Band Live in Manila is happening at the PICC Plenary Hall, presented by Globe and MTV Philippines. If you're a fan of the big band sound, don't miss this chance to meet the Hollywood actor and celebrated singer.
Over the past two decades, Harry Connick Jr. has proven to be among the world's most successful and multi-talented artists. It was his career that paved the way for modern crooners like Michael Buble and Peter Cincotti.
ADVERTISEMENT - CONTINUE READING BELOW
Connick first reached a mass audience as a pianist, singer and bandleader. His love of music and performing dates back to his childhood in New Orleans, where he studied piano with such luminaries as James Booker and Ellis Marsalis. He first performed publicly at age five, appeared on his first jazz recording at age ten, and released his self-titled major label debut for Columbia Records at 19, only a year after his high school graduation and his move to New York City.
He achieved widespread success as a musician when director Rob Reiner asked him to contribute the score to his 1989 smash When Harry Met Sally, leading to Connick's first big-band recording and first multi-platinum album. In the '90s, the full scope of Connick's artistry emerged. His albums featured original instrumental and vocal music (Lofty's Roach Soufflé and We are in Love, respectively), explored funk (She and Star Turtle) and romantic balladry (To See You), and then pulled all of these strands together in the decade-ending big band tour de force Come by Me.
ADVERTISEMENT - CONTINUE READING BELOW


Recent years have seen further triumphs, including his Grammy-winning reflection on favorite music of his youth, Songs I Heard, and his blockbuster hit albums Harry for the Holidays, a Christmas classic, and subsequent collection of ballads, Only You. At the same time, Connick displayed his instrumental prowess in more intimate settings, a goal realized with his Connick on Piano series recordings for Marsalis Music which include the releases Other Hours, by Connick's quartet, and Occasion, Connick's duo encounter with Branford Marsalis.
Connick began 2007 with the January 30th Columbia Records release of Oh, My NOLA, a new album of New Orleans-inspired music. On the same day, Marsalis Music released a companion album of instrumentals by Connick's big band, Chanson du Vieux Carré.
At the same time, Connick has built a successful film career, appearing both on screen and soundtracks. After making his acting debut in Memphis Belle in 1990, he also appeared in Little Man Tate, Copycat, Independence Day, Hope Floats,John Grisham's Mickey, William Friedkin's Bug and P.S. I Love You with Hilary Swank, which was released in 2007. His music has also contributed to the success of such films as Godfather III, Sleepless in Seattle and The Mask.
ADVERTISEMENT - CONTINUE READING BELOW
As a television performer, Connick has starred in two holiday specials built around his multi-platinum holiday albums, When My Heart Finds Christmas (CBS) and Harry for the Holidays (NBC), and two great Performances/PBS concert specials, Swingin' Out Live and the 2004 Emmy-winning Harry Connick, Jr.: Only You In Concert. He starred opposite Glenn Close in the ABC TV adaptation of the musical South Pacific and played the recurring role of Dr. Leo Markus on the NBC series Will & Grace.
As a New Orleans native, Connick Jr., was deeply affected by the devastation caused by Katrina along the Gulf Coast. The actor-singer teamed up with Branford Marsalis, and the New Orleans Area Habitat for Humanity to create "Musicians' Village," a community in the Upper Ninth Ward which will consist of single-family homes for musicians and other qualifying homeowner families as well as elder-friendly duplexes. Its centerpiece will be the Ellis Marsalis Center for Music, a performance, instruction and recording complex, dedicated to the education and development of homeowners and others who will live nearby.
ADVERTISEMENT - CONTINUE READING BELOW
For more information on Harry Connick Jr.'s concert and the MTV Concert Series, tune in to MTV Philippines on Channel 57 on Sky Cable (or ask your cable operator for channel designation) or log on to http://www.mtvphil.com/.
To purchase your tickets, call Ticketworld at 891-9999.