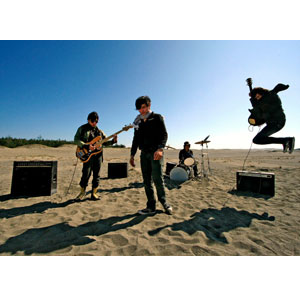 ---
With hits such as "Stars," "Take My Hand," "Magbalik," "Pasan" and "Sanctuary" under their belt, the members of the fresh young band Callalily were ecstatic that these songs were given heavy airtime in radio stations. The support of their fans, who call themselves Callalistas, allowed the band's debut album Destination XYZ to reach certified gold status.
Now, Callalily is back on the music scene to release their second album Fisheye under Sony BMG Music Entertainment. The record contains 15 original tracks written and composed by band members Lemuel Belaro (drums), Tatsi Jamnague (rhythm guitars), Alden Acosta (lead guitars), Aaron Ricafrente (bass) and Kean Cipriano (vocals). It features the carrier single "Susundan."
Callalily guitarist Alden Acosta confessed that he and the rest of the band understood why people were too critical of them when they came out.
"They thought we had it too easy, that we got signed up too fast. And that we don't deserve it."
Alden said it was okay and they learned to live with the accusations but there were moments that he felt being nudged too often.
"There are times that I feel I need to explain myself and my band's position all the time. We didn't ask for it. We worked hard for it. We paid our dues. We played for nothing. Sometimes we even wait for hours just to play three, four songs."
Indeed, talent, hardwork and positive attitude made the band. Manager Darwin Hernandez says,
"They were different. They were confident, far too confident for a band just starting and I thought it cool," said manager Darwin Hernandez. "That was what clinched it for me. More than the material, it was the attitude."
ADVERTISEMENT - CONTINUE READING BELOW
Aside from handling Callalily, Darwin also manages 6cyclemind, Imago, and Sandwich.
And now on their second album, the attitude is still there.
"I think this is the best we've done so far. It's way better than the first one [Destination XYZ]," said Kean Cipriano, singer and overall chick magnet.
Why Fisheye?
"There's nothing profound about it. It's just a term we came across in the many photographers' books we digested during the last tour," Kean explained. In fact, the cover of the album is shot using a fisheye lens, which produces a circular image.
According to the band, there's marked growth to be felt on the album.
"We changed. We became accustomed to the idea of working in a studio. We got more comfortable and it reflected on the songwriting," rhythm guitarist Tatsi Jamnague pointed out.
And it looks like the fans agree.
During the March 7 launch of Fisheye at the Music Hall in SM Mall of Asia, hundreds of well-wishers greeted the band with thunderous applause as they played a couple of snippets from the album. Some of them even stayed long after the sound of the last chords faded away.
"We're thankful for the fan support. We could only promise to keep on doing our best. To create music that they...well, of course, we'd all enjoy," Alden concluded.


Callalily is nominated as Favorite Artist, Favorite Group and Favorite Music Video (for "Magbalik") in this year's MYX Music Awards.