F4 Thailand stars Bright Vachirawit, Win Metawin, Dew Jirawat, and Nani Hirunkit felt like one of their wishes was granted when they finally saw their Pinoy fans in person.
Dubbed as their Shooting Star Asia Tour, the fan meet was held yesterday, November 19, 2022, at the World Trade Center in Pasay City.
"It's like our dreams came true," said Win Metawin during the first part of the event produced by Rise Media and GMMTV.
He also gushed that the group never thought they could draw such a huge following in the Philippines.
"We never expected that we're gonna have a foreign fanbase. We're happy to see the Filipinos and [that we] got to see you all in person.
"Tonight is the night that we can get to see you all here."
Bright Vachirawit, for his part, was thrilled to be in Manila two years after he got to interact with some fans when he and Win did an exclusive virtual fan meeting dubbed BrightWin Manila: The Virtual Fanmeet.
"It's been a long time since we've known each other, right? But I'm here and you're here. I'm so impressed with your energy," he exclaimed.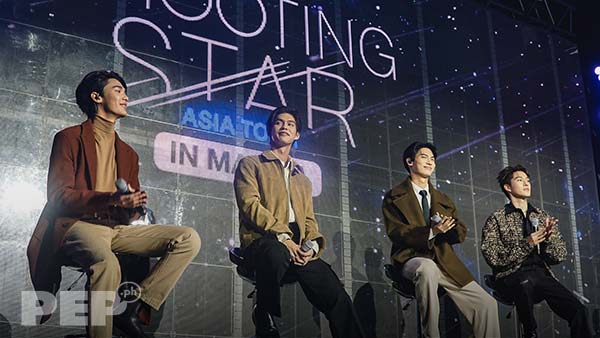 BRIGHT VACHIRAWIT SINGS ERASERHEADS' WITH A SMILE
During the show, Bright Vachirawit further captured the hearts of his Pinoy fans by adding a "Pinoy flavor" to his solo performance.
The Thai heartthrob serenaded his fans with a classic Eraserheads song, "With A Smile," which Bright also covered two years ago for the Philippine airing of his BL (boys' love) series (Still) 2gether: The Series.
Asked how it feels to perform an OPM song in front of Pinoy fans, Bright revealed that he had to rehearse the song over and over to make sure he'll sing the correct lyrics in front of his fans.
"It's like two years ago since I sing the song. I have to, like, sing the song every day because I always sing the wrong lyrics," he confessed.
Eliciting loud shrieks from the audience, Bright added, "But I tried so hard to make you guys so happy. So, I want to sing the songs that you guys can sing along with me."
OTHER FAN MEETING HIGHLIGHTS
Shooting Star Asia Tour in Manila was F4 Thailand's first fan meeting in Manila, but Bright, Win, Dew, and Nani made sure that they delivered a once-in-a-lifetime experience for their avid fans.
They opened the show by singing their song "Who Am I." An official soundtrack to their series F4 Thailand: Boys Over Flowers, this song generated more than 20M views on YouTube.
The boys also showed off their fluency in the Filipino language as they learned local phrases like "Mabuhay!" and "Mahal namin kayo!"
Eager to learn more Pinoy words, Bright even asked, "What's beautiful in Tagalog?" Then he uttered the word "maganda" while pointing to each of the female concertgoers.
The F4 Thailand boys also gamely performed songs that their fans enjoyed. Nani sang his first single "Best Life," Dew performed his ballad "In the Wind," and Win gave his rendition of "That Person Must Be You."
Pinoy fans got to learn more about the Thai heartthrobs during the Q&A segments where all four stars answered questions like the number one songs in their playlists, their messages to their younger selves, and roles they want for each other.
They even gave nuggets of advice to fans who are feeling tired or burned out from school and work.
Towards the end of the fan meet, Bright expressed "No words can describe how I'm feeling. "Thank you for loving both of us. We love you! Today will be forever in my heart."
Aside from the Philippines, F4 Thailand: Boys Over Flowers will visit other neighboring countries as part of their Shooting Star Asia Tour.