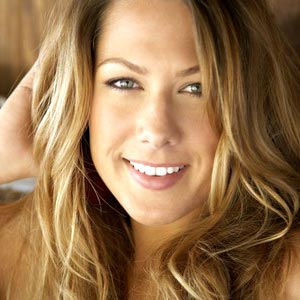 ---
She is tall, tanned and very beautiful. Singer Colbie Caillat looked very much like the laidback, California "surf and sand" girl that her videos show her to be. But it wasn't all looks. She is also a sunny person: warm, engaging and very personable.
While she admitted that she knew nothing about the Philippines before coming over, Colbie said that she now aims to "know more" about the country. All that the California-based singer-songwriter knows about the Philippines is what a friend told her: "She said it was really beautiful with lots of beaches." The bubbly singer even told PEP (Philippine Entertainment Portal) during her March 11 press conference, "The people are so nice. And I just love the weather here."
Colbie did the rounds of shopping malls, performing at the Glorietta Activity Center in Makati and Trinoma in Quezon City for her two-day stint. In between, she also visited a couple of radio stations and was present for a "meet and greet" with the press and her fans.
The hectic schedule might have been tiring for the newly minted pop star but she looked quite game. At one point, she even egged us on to ask more questions even as her handlers tried to cut short our interview.
"I love it. It's pretty exciting," gushed Colbie about her popularity. She grew up in a musical environment, courtesy of her producer dad (among many that Ken Caillat produced are classic albums for Fleetwood Mac). Colbie confessed that fame also eats up her time in that she does not get to do things that she used to before and she misses it. A lot.
"I love hanging out on the beach with my friends. With all the traveling and the work, it's kinda hard for me. But I have no regrets, you know...you take the good with the bad."
ADVERTISEMENT - CONTINUE READING BELOW
For her Manila sojourn, Colbie brought a couple of her friends and some relatives who patiently sat through all the events with the singer-composer, exchanging knowing glances with her from time to time.
"Having my friends around sort of balances things out...it sort of makes things a bit more 'real.' It makes touring more enjoyable."
Colbie looked like she thoroughly enjoyed herself when PEP caught her in one of her performances (the Glorietta leg). Although she was slated only to do a couple of numbers (including some of the more popular tunes from her album Coco, especially the hit song "Bubbly," which the crowd sang with her), she gave in to the requests of fans and performed longer than she should. She looked surprised upon seeing how people practically memorized every line of her songs.
In all, Colbie summed the trip as a "fun time."
"I am having a great time. You guys have been so kind. I surely wish that I could come back soon," she said, while showing off that Jennifer Aniston-like smile of hers.