YoungTak grateful for BTS' Jin, second coming in K-Pop with trot music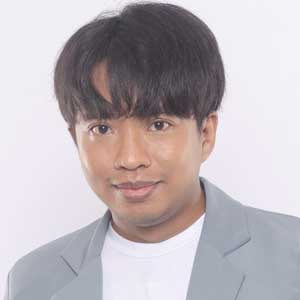 by Nikko Tuazon


Mar 2, 2023
South Korean singer YoungTak is at the forefront of bringing Korean trot music to the global stage.
On February 7, 2023, YoungTak and his music were introduced to the press, including PEP.ph (Philippine Entertainment Portal), during a press conference arranged by Live Nation Philippines held at the grand ballroom of the City of Dreams in Parañaque City.
The event was attended by Live Nation Korea's Cho Young-bae, Live Nation Philippines' Rhiza Pascua, Milagro Entertainment CEO Lee Jae-kyu, and Universal Records Philippines' Kathleen Go.
At the press launch, YoungTak expressed how grateful he is to be given the chance to promote his songs overseas.
With the help of a translator, he said, "Sa buong buhay ko po, hindi ko inisip na ako'y makakarating sa ibang bansa upang ipakita po ang aking sarili, ikuwento po ang aking sarili.
"Kaya, kung iisipin po na nakarating ako dito sa Pilipinas at nabahagi ko rin po ang tungkol sa akin at sa aking mga awit, ngayon pa lang po ay sobra na akong nagpapasalamat."
YOUNGTAK: TROT SINGER
YoungTak began his music career as a ballad singer in 2007 but it wasn't until 2016 that he entered the trot genre.
Trot music is a genre of Korean music that is "mostly popular with older generations," according to linguasia.com.
This was the main music genre in South Korea from the 1950s up until K-Pop was introduced in the 1990s.
However, the genre has seen a major decline in the 2000s since it was deemed "old-fashioned" by the younger generations.
Through his translator, YoungTak noted, "Sa Korea po, ang katotohanan, dahil ang trot music po ay mas pinakikinggan ng mga matatanda.
"Wala po masyadong pagkakataon ang mga young trot singers na magkaroon ng stage or makapag-perform ng kanta nila."
But over the past few years, trot was brought back to the spotlight as younger Korean singers start dabbling in the genre.
TV networks have begun producing shows promoting the said Korean music genre.
In fact, YoungTak's popularity skyrocketed after he participated in the TV show Mr. Trot in 2020, where he achieved second place with the song "Jjiniya."
The singer is filled with gratitude for all that he has achieved following his participation in the said Korean reality/talent show.
"Naniniwala po ako na sa pamamagitan ng ganung klase ng programa, napakadaming mga daan po ang nabuksan para sa aming mga trot singers.
"At ako rin po ay isa sa mga nakatanggap ng ganitong pagkakataon.
"At kung iisipin rin po natin, isa rin po ito sa mga naging daan upang makarating at makaharap ako sa inyo ngayon araw."
SECOND COMING
YoungTak also considers this as his second coming in the Korean music scene.
During the press conference, YoungTak revealed that he chose to put his music career on hold between 2010 and 2013, and took up a teaching job because his musical pursuits were not sufficiently lucrative.
He recounted, "There was a time in my career that I was hit by reality, with the thought and the idea of... when it comes to income as a singer, it's not that high as we think.
"And I started to teach kids for two to three years.
"And as I started doing that, people around me were complimenting me saying, 'I think you're a great teacher.'
"I was able to continue that road in those years and I can honestly say, during those times, I put down first my music.
"And I was very sad about the truth that I wasn't able to perform the music that I wanted to show."
YoungTak received another chance to pursue his music career in 2013 through the hit singing competition The Hidden Singer.
"I was able to get a great opportunity to begin my career again through a Korean reality show called The Hidden Singer.
"And during the show, I was participating as someone who would copy R&B singer Wheesung.
"And I was able to reach a high point during the show, I was able have good results during the show.
"And seeing this, I thought, 'Would this become the spark that would rekindle my career as a singer?'
"And with that spark, I would say that I was able to maintain my motivation, momentum up to this day and I was able to perform to you as well."
GRATEFUL TO BTS' JIN
Now, YoungTak is proud to have released his first studio album titled MMM which he released in July 2022, which is fifteen years since he made his debut in the Korean music scene.
YoungTak acknowledged that there were several factors that helped him gain popularity.
And among them are the K-Pop group BTS, particularly Jin, as well as their fans called the BTS Army.
YoungTak recalled how the BTS Army made his song viral in late 2020 after he performed it at the Melon Music Awards.
"I am very thankful towards the members of BTS especially Jin because, once, I had an episode where I was able to perform in an awarding ceremony.
"And in that awarding ceremony, it overlapped with the birthday of BTS Jin.
"And as you know, the song that I sing says 'Jin Jin Jin' So BTS fans were thinking who is this 'Jin Jin Jin man' that is why my song went viral as well.
"And I think it became a great way for my song to become known more."
YoungTak also added how Jin subtly promoted his other song "Why Are You Coming From There?"
He told the press, "[Jin] mentioned that whenever he would take a shower, he would listen to my song 'Why Are You Coming From There?'
"And I'm very thankful for his shoutout or his mention regarding this and I hope, in the future, if there's a chance that I would get to meet him, I'll be able to treat him delicious food."
TROT IS PART OF K-POP
With the recent resurfacing of the trot genre in the Korean music scene, YoungTak believes that the distinction between trot and K-Pop is slowly vanishing.
"I think trot is also part of K-Pop, thinking in the aspect that the same instruments were used for performances and for production, the same singers are performing this genre as well.
"And also, when it comes to performances, through the collaboration with different artists that add their sense of detail to create a wonderful performance, I think we can also say that trot is also part of K-Pop.
"And also thinking that this is a genre where currently we focus and we also aim to create songs and music that knows no boundaries when it comes to age or generations."
He added, "I can say that the trot music that I'm doing represents the generation." 'Jjiniya,' 'Why Are You Coming Out From There,' and 'What Is Happening?'
"If you are to look at these songs in the context of Korean language, these titles or the expressions that are used in these titles are widely used in Korea currently."
"With these, I think my songs are more enjoyable and mas nakakasaya po siya sa mga tao kasi mas nakaka-relate po sila sa sinasabi ko sa kanta."
READ MORE: