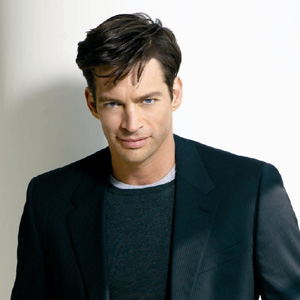 ---
When the movie When Harry Met Sally came out in 1989 (yes, the one with Meg Ryan faking orgasm during a dinner date) not only did it make stars out of Meg Ryan and Billy Crystal, it also nudged a talented musician long struggling on the fringes into the limelight.
Harry Connick Jr. was considered a prodigy, having learned the keyboards at the age of three, played publicly at age six and recorded with a local jazz band at 10. His first record came out when he was merely 19.
Although he already acquired for himself a tight circle of fans at that time, he wasn't really that popular. Well, at least outside New York. When the abovementioned movie became a hit, Harry awoke in 1989 to find himself crowned as a new star, hyped as the second coming of Frank Sinatra himself.
Today, after selling millions of albums, receiving a slew of movies, awards, recognitions and stage appearances, Harry Connick Jr. is considered by many as an icon of incomparable value, especially to the genre known as big band jazz.
Just recently, Filipino music fans had the honor of witnessing this musician's greatness when MTV Philippines brought him to the country for a one-night only gig.
PEP (Philippine Entertainment Portal) was able to talk to Harry prior to the much awaited night and suffice it to say, this is a man, who, after all the success, remains humble and very much grounded.
According to Harry, success is a state of mind and that he's just "really glad to be given the chance to share the music."
Harry brought in two of his daughters [he has three from his long standing marriage to former Victoria's Secret supermodel, Jill Goodacre] since he wanted to "let them see the reality of the world we live in."
ADVERTISEMENT - CONTINUE READING BELOW
"My two daughters need to know about how it is. I really believe that by exposing them...showing them... how other people live their lives from the other side of the earth, they'd come to understand it better."
Harry describes the weather in the Philippines as perfect. "It's nice. I love the weather. It reminds me of home [New Orleans]."
During the March 15 concert held at the PICC, Harry's warmth and graciousness translated in his performance.
Performing a slew of materials that displayed his musical dexterity as well as his commanding presence (some call it charisma), Harry was as lively as his idol, Sammy Davis Jr.
He sang, danced, played the piano, thumped some congas and even ate balut (duck-embryo egg) onstage! He gave some balut to the audience, telling us: "Dunno why you guys have to wait for the egg to actually become nearly a chick before you eat them" before swallowing a truly hairy one.
All in all, balut or no balut, Harry is a classy musician who is very funny and very cool.