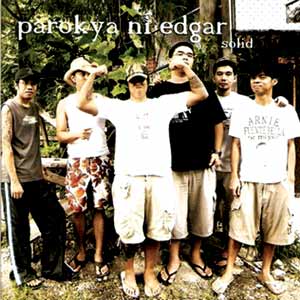 ---
Parokya ni Edgar continues to reap big heaps of success more than a decade after they first performed in public.
After a couple of platinum albums, awards and endorsement deals, the band adds another accomplishment to its impressive resumé as they were launched recently as Samsung's Live Loud brand ambassador via a concert kickoff party in Eastwood City Libis. The OPM band was joined by Brownman Revival during the March 14 event dubbed as Live Loud.
The group made sure the fans who came in droves to the site would enjoy another evening of madcap fun, trading jokes and easy banter onstage even as they dished out a good number of their hits including past faves such as "Halaga," "Mr. Suave," "Buloy" and "Harana." As usual, Parokya Ni Edgar had the crowd at their fingertips.
Of course, Brownman Revival was at their best as well; delivering their smooth pop reggae sound that includes the well-loved hit song "Maling Akala."
ADVERTISEMENT - CONTINUE READING BELOW
Hosted by the comic duo Luis Manzano and Andy Manzano, the Live Loud event was truly a dream come true for music aficionados. Not only that, it also proved very much a hit for fashion mavens and gadget enthusiasts.
Aside from the music, the continuous parade of stunning models in futuristic attires, and Samsung's new line of phones—the Samsung i450, Samsung f250 and Samsung f330 music phones—were wildly enjoyed as well.

According to Seung Ho Choi, VP Mobile Phones of Samsung Electronics Philippines Corporation, "Music is a vital form of self-expression that speaks of the passion and intensity of every generation; your generation has taken music to greater heights, and we at Samsung will continue to support every form of artistic expression."
Spencer Shim, CEO and President of Samsung Electronics Philippines, Corp., is equally excited with the Samsung Live Loud music campaign. "With the new line of Samsung mobile phones, we will help you make a statement by allowing you to let loose and express yourselves musically," he says.
ADVERTISEMENT - CONTINUE READING BELOW
Chito Miranda, Parokya ni Edgar vocalist, visibly tired but elated, expressed his satisfaction with the series, inviting fans to share in the fun.
"We are all for endorsing fun and good music. These phones allow for that. We're hoping that the fans, our friends, will continue supporting us through the concert series."
Parokya ni Edgar will spread the Samsung Live Loud vibe in a series of concerts that will take place in Cebu and Cagayan de Oro in April and May, respectively.