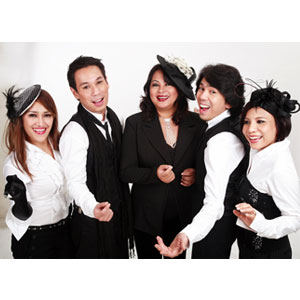 ---
Twenty-three years in the music business has taught Moy Ortiz, Annie Quintos, Sweet Plantado, Cecile Bautista and Jay Marquez—collectively known as The CompanY—a lot of things which they are eager to pass on to the next generation of performers this summer through Trumpets Musicademy's Star Power workshop.
The Star Power workshop is not a basic voice workshop. Rather, it will teach students how to enhance the other aspects of live performance, from writing and delivering spiels to imaging. It will also touch on managing finances, bookings, dealing with the media, repertoire building, microphone techniques, staging and choreography, and even recording a demo.
In short, if you intend to make singing a career—and want to become successful at it—these are things you need to learn to acquire true "star power."
Classes will be held at The Podium and will run from April 2 to May 31 and will be open to teens and adults who should already have had the benefit of basic vocal training in pop singing, whether it's R&B, standards, or straight up pop-jazz.
ADVERTISEMENT - CONTINUE READING BELOW
"What we're going to be doing here is more along the lines of a master class," explains Moy. "It's more of mentoring, of shaping the song and giving advice. It's very hands-on. We want to make them [the students] aware of what they're up against, and what it takes to succeed at a singing career."
All the members of The CompanY agree that they have indeed learned a lot in the more than two decades that they've been in the business. "It takes a lot of hard work and vision," says Annie.

Cecile adds: "Also passion. Along the way, there have been lots of challenges. Fortunately, for us, Moy has that vision, and he has enough passion for all of us."
Moy continues: "Basically, it's a combination of persistence and vision. Plus you've got to work hard and be willing to go the extra mile. Siyempre, nandiyan na rin yung talent. You have to have talent to give—and to that, you add the hard work and vision."
ADVERTISEMENT - CONTINUE READING BELOW
That, in a nutshell, is what they will be passing on to their students in the Star Power workshop. They are eager to start the workshops, having had a taste of it when they became "teachers" during the first season of Pinoy Dream Academy (PDA), whose second season is about to be launched by ABS-CBN.
There is so much to learn, says Moy, that there are even plans for the workshop to have a Part Two once Part One gets off the ground.
So if you want to learn how to be a star this summer, sign up for The CompanY and Trumpets Musicademy's Star Power workshop.
For details, visit or call Trumpets Musicademy, 5/F, Shangri-La Plaza Mall, 636-2842 or 0917-896-4034. You can also check the website http://www.trumpetsplayshop.com/.
Trumpets Playshop, which began in 1993, also offers courses in Children's Theater, Children's Musical Theater, Musical Theater for Teens and Adults, Streetdance for Teens and Adults, Public Speaking and Hosting, Modeling, Photography, and Animation.
ADVERTISEMENT - CONTINUE READING BELOW