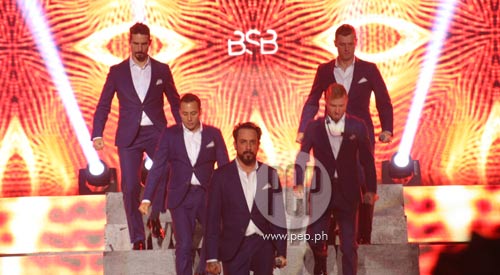 IMAGE Allan Sancon
---

Backstreet's back in Manila!

The Mall of Asia Arena was jampacked with concertgoers who were eager to welcome the iconic '90s boy band.
Last May 5, the Backstreet Boys held the Manila leg of their In A World Like This tour. They performed their hits from the '90s, making it a complete trip down memory lane. Nick Carter had one request for fans: "We want you to act like your 15 years old, okay?"
Aside from the throwback hits, BSB also made revelations about the country that they last visited in 2012. Nick said, "It is an absolute honor to be back in your beautiful country!"

Howie admitted he has a "personal close attachment" to Manila because his godmother is a Filipino.

He then praised the Popstar Princess by saying: "I was given a chance to sing with one of the greatest artists here in the Philippines, Sarah Geronimo."
But the biggest pride of all is when they proudly revealed that they are fans of our Pambansang Kamao Manny Pacquiao. They even changed some of the lyrics of their song "Madeleine" to "Manny", and they said they wanted a rematch. That was after Manny lost to his match with Floyd Mayweather Jr.
THROWBACK HITS. The opening was a complete throwback for fans of BSB. Concertgoers shouted eagerly as they waited for the boys to come out.
When they finally came out of the stage, the boys wore a black and blue ensemble, reminiscent to their 2000 album Black & Blue.
Then they started performing their dance hits "The Call" from the album Black & Blue and "Don't Want You Back" from Millennium. The boys were so energetic with their dance number that Brian even fell off the stage of MOA Arena!
ADVERTISEMENT - CONTINUE READING BELOW
The lights then dimmed for a while as they prepared for their next number. Howie, Brian and Kevin assembled at the back in a straight line. Meanwhile, Nick turned to his guitar and A.J. went to the piano to perform their 2006 hit "Incomplete".
After the performance, Nick told Filipinos that it is an honor to be back in the city, and promised everyone that they will give an incredible show.
Nick then introduced the others: A.J, whom he described as the badboy of the group; Brian, who said he was okay after he tripped onstage; Howie and Kevin. They then proceeded to perform "Permanent Stain."
The lights dimmed again and they started snapping. They performed "All I Have to Give." As they do some dance moves and put on their hats, they asked the audience to sing for them.
22ND ANNIVERSARY. After their Black and Blue ensemble, they went backstage while a VTR played about the Backstreet Boys revealing details about each other.
The girls screamed their hearts out when Nick first went out of the stage wearing a black muscle tee. They changed into red and black outfits which are edgier and street-slack than their first ensemble. As promised, they made girls' hearts swoon by singing "As Long As You Love Me".
After that, it was Kevin's turn to give his spiels. He thanked Manila and said that it is good to be back. Their last concert in the Philippines was in 2012 along with New Kids on The Block, however, Kevin did not join the said tour.
Kevin also added that this 2015, they are celebrating their 22nd anniversary. "We started In A World Like This tour as a 20th anniversary tour. We started the tour in Mainland, China in 2013 and we just celebrated our 22nd anniversary."
ADVERTISEMENT - CONTINUE READING BELOW
He then introduced the next song they were about to perform, in which Kevin and A.J. wrote for their babies, "Show 'Em (What You're Made Of)". After that, they performed one of their hits "Show Me The Meaning Of."
A.J. introduced their next production number by asking audience members to light up their smartphones and join them in singing "Breathe." This was followed by "I'll Never Break Your Heart" and "We've Got It Goin' On."
MANNY PACQUIAO FANS. Acoustic instruments were then set-up and some girl fans went up onstage and sat beside the boys.
The boys then gave a sample of acoustic versions of "Drowning" and "I Want It That Way", to which the audience sang along.
However, A.J. told the crowd, "We don't do that song in the show anymore."
He added, "But hey hey hey, if you look at your ticket, at the fine fine print it says Backstreet Boys will do everyone of their hits except I Want It That Way." The audience raved, which made A.J. retract his statement immediately. "I'm kidding, I'm kidding!"
Nick then told joked that Howie looked like Manny Pacquiao.
"You know, as I was sitting up here, I looked over Howie and at that beard!
"And I said, you could give yourself like a little goatie…you look a little bit like Manny Pacquiao!"

Cheers erupted from the crowd in response.
"I like that!" Howie answered.
Then Nick turned to the audience and added, "And I tell you what, we – Backstreet Boys – we want a rematch!"
ADVERTISEMENT - CONTINUE READING BELOW
They then performed their song "Madeleine" which they dedicated to the Pinoy boxer who just recently to Floyd Mayweather. They even changed some of the lyrics to suit Manny.
The boys then asked the audience to sing along with them, and tagged the Philippine crowd as "the best singing crowd in the entire world tour."

They also entertained the crowd by playing an acoustic version of "Quit Playing Games With My Heart."


NEW ALBUM AND TOUR. After the acoustic session, the boys went to perform their ballads that made ladies' hearts swoon: "The One" and "Shape of My Heart."
Brian then asked everyone if everybody's still having a good time. When everybody screamed and said yes, Brian answered, "Me too!"
He then revealed that Backstreet Boys will be back on studio as they are set to do new album. "Kevin was talking earlier about Backstreet Boys going back into the studio. This is a fact!"
"This summer, Backstreet Boys are going back in to make a brand new one [album].
"But what comes a brand new record? A brand new tour!" He then sang a line from their song "Everybody": "Oh my God, we're back again!"
He then thanked everyone who watched the tour, saying that their fans are the reason why Backstreet Boys is still active. He then invited everyone to enjoy the show with their last few songs.
The boys then went back on stage with flashing white lights, enticing audiences to dance along with them. They raised the by performing "Love Somebody" and "I Want It That Way."



�
Everyone thought that it was already the last song since the guys went backstage already. The lights were dimmed as well, making everyone shout "We want more!"
ADVERTISEMENT - CONTINUE READING BELOW
And yes, their wish was granted. After a few seconds, the boys went back to sing "Everybody (Backstreet's Back)"!



�
While singing, they interacted with lucky Pinoy concertgoers at the pit. Brian even grabbed someone's phone and took a selfie.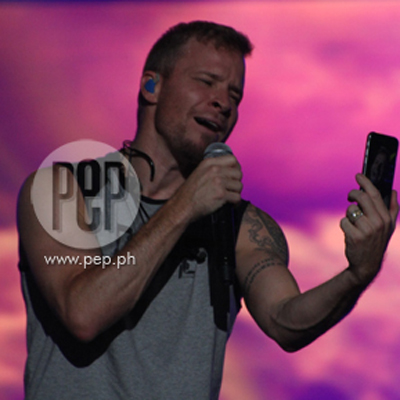 �
He also saw a poster made by a fan with the message: "I ♥ BSB"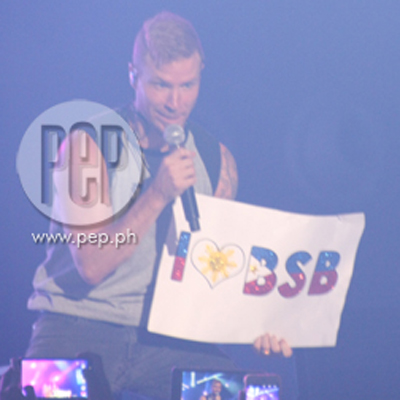 �
The five guys then showcased their dance moves as they performed "Larger than Life."



�
As 11 p.m. approached, they ended their Manila tour by thanking everyone for supporting their In A World Like This tour.


The lights finally dimmed, ending everyone's trip down memory lane.
�