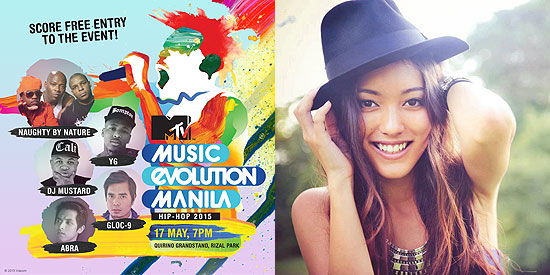 ---

MTV is mounting the first MTV Music Evolution, a live event that presents the changes in the music scene. It aims to let young people experience and discover how music styles and sounds have evolved over the years.
"It's going to be insane for sure," predicts Singapore based MTV VJ Han Li when asked what Filipinos should expect during the first Music Evolution Manila.
VJ Han Li will be hosting the first-ever Music Evolution Manila that will take place this May 17, 7 pm at the Quirino Grand Stand.
The Singaporean VJ continued, "All these events that MTV bring together are a free event.
"We don't want you to pay, we want you to go.
"And to get the passes, you win them, you do competitions; you go to road shows, so the passion to even get the passes is there.
"So once you have the passes and you put all the effort to get them, the kind of energy the crowd has is just so grateful and insane like the screaming is like deafening and the electricity in the air is so magnetic and it's insane.
ADVERTISEMENT - CONTINUE READING BELOW
"With the lineup that we have I am expecting it to be cool. It will be crazy and I am so excited."
VJ Han Li admitted that she tried listening to Filipino artists such as Abra and Gloc-9 who will also be a part of the Music Evolution Manila.
VJ Han Li said, "I checked out Abra, Gloc-9, and also checked out Francis M.
"He was a huge influence here [in the Philippines] with hip-hop and I learned all about it last time when we were filming the documentary for Music Evo Manila. I talked to his wife Pia [Arroyo-Magalona] she's wonderful and really insightful."

What is her impression of Filipino artists?
She replied, "Oh well you know even before I came to Manila or Philippines I knew that your country is so passionate about music. The feedback we have online, the feedback we have from the show on the channel, we knew you guys love your music."
ADVERTISEMENT - CONTINUE READING BELOW
The host-model added: "Everything I've heard has been incredible and even though I may not understand the words I feel the passion, the beat and the rhythm are great."

The MTV Asia VJ describes Tagalog as the perfect language for hip-hop.
"The flow, the rhyming it just went so perfectly you can easily sing to it.
"When we were talking to Abra I listened to him and said that it is the perfect language to rhyme with."
Hear today's best hip-hop artists and join them on May 17 as MTV throws the wildest and craziest Music Evolution Manila party. Watch our very own Apl.de.Ap, Abra and Gloc-9 together with foreign acts like YG and DJ Mustard and Naughty by Nature.
How to score tickets?
MTV just announced another way of scoring passes to MTV Music Evolution. Interested parties may email mtvevo@mtvasia.com with the subject #mtvmusicevo to receive instant passes to the concert.
ADVERTISEMENT - CONTINUE READING BELOW
MTV Music Evolution entry wristbands are NOT FOR SALE.