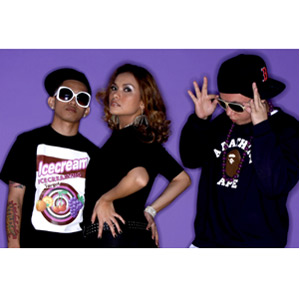 ---
At two p.m., the house first comes alive with Klumcee bounding down the stairs. Soon Dice and Hi-C are up and about, too, often with a new idea for a track just waiting to leap out of their heads.
This is a day in the life of hip-hop trio Dice & K9 Mobbstarr. The silence of sleep descends around the house only at dawn. All through the afternoon and into the night, the three are busy inventing and experimenting with sounds at their professional home studio.
Having broken into the Manila scene four years ago, "wearing clothes that fit us just right," says Dice, in contrast to the oversized shirts and baggy ultra-low jeans that everyone proclaiming hip-hop was wearing then, the group has since topped the charts. They became known as the hip-hop group that raps Japanese lyrics with a hypnotic thread of pop melody, all held together by a metallic, meandering techno beat.
ADVERTISEMENT - CONTINUE READING BELOW
This April, the hip-hop trio's latest creation, Time Space Rhythm Starrs, will soon be available in the market. It has been two years since they last released a full-length album titled Mobb Music. Fans can expect their latest collection of beats and verses to be a welcome departure from the laid back beat they have been known for. Listen to "Eargasmic," the first single off the album, as it dishes out an infectious dance groove.
Back in Cebu where the group started, Dice already had that trailblazing spirit. With his cousins, and later by himself, he would produce beats for different groups that defied the mainstream idea of hip-hop, putting forward a movement to support independent Cebuano bands at a time when foreign and Manila artists were at the forefront.
Dice, Hi-C, and Klumcee all have the same vision for their music, which is to stretch the limits of hip-hop by merging it with pop, techno, and whatever they want to experiment with, unafraid of producing a new sound.
ADVERTISEMENT - CONTINUE READING BELOW
"The true essence of hip-hop is change. It's about always evolving to improve your way of living," declares Dice. Right now they hope to expand their reach to an overseas audience, especially those in Japan and the United States.
Tune in to various radio stations for "Eargasmic" and get a copy of Time Space Rhythm Starrsfrom your favourite record store. Join their mailing list groups.yahoo.com/group/mobbstarr and visit at www.myspace.com/mobbstarr or at mobbstarr.multiply.com for more info.