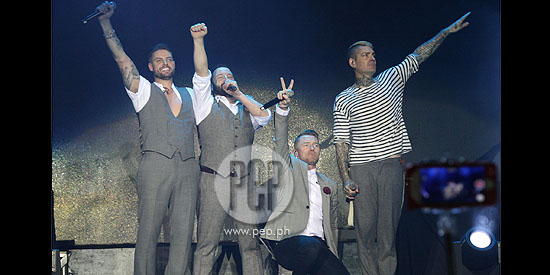 ---


After eighteen years, Irish boy band Boyzone returns to Manila!

For their last stop in Asia, the popular '90s boyband held BZ20 (Boyzone 20th Anniversary Tour) at the Smart Araneta Coliseum last night, May 26.

This marks their second time to perform in the Philippines since their 1997 concert at the Folk Arts Theater.

Boyzone's lead singer, Ronan Keating, opened their 2015 concert with a promise:
"Good evening Manila! Hello to you all beautiful people of Manila. Thank you so much for this very warm welcome," he said.
The singer recalled, "It has been 18 years since Boyzone was here in your town so thank you on behalf of us guys.
"Thank you for welcoming us back to your city.
"Thank you for allowing us, to perform on your stage, for you again.
"Tonight we're gonna relive songs from the past, some of the hits that you all remember. Some of the music and some surprises too."
ADVERTISEMENT - CONTINUE READING BELOW
Eighteen years ago, Boyzone was composed of Ronan Keating, Keith Duffy, Michael Graham, Shane Lynch and Stephen Gately.
In 2009, Stephen died of a pulmonary edema caused by an undiagnosed heart condition, which became the band's greatest challenge at that time.
During their Manila concert, Boyzone members paid tribute to their late lead singer Stephen through an audio visual presentation that showed photos of them back in the nineties, which moved and brought their diehard fans to tears.
After the presentation, Ronan recalled their last visit to Manila with Stephen, "The last time we were here in Manila, Steo [Gately's nickname] was with us."
He continued, "So you know we were quite apprehensive about going on tour in Asia.
"Because we've done shows in the UK and Europe after Stephen passed.
"So it's our first time to come back here, back to the region.
"Everywhere we look, everywhere we went or places that we have been was with Steo. So on our way here was really difficult but on the other hand it was really fantastic and beautiful.
ADVERTISEMENT - CONTINUE READING BELOW
"[With] that we are getting to relive those memories again with Steo. Because when the four of us are together, we feel he's here in the room, he's on stage tonight.
"Thank you for allowing us to come back and do this."
Shane Lynch continued, "Days before we go to Asia you've been very supportive.
"You've been sending all those pictures on Instagram and Twitter back in the nineties where Stephen was here taking pictures of you guys. So thank you for giving back those pictures to us. It means a lot to know that you support us."
Keith Duffy revealed that during their shows, they seldom include songs that Stephen played lead vocal.

"Our live shows do not include old Boyzone hits that Steo did because we miss Stephen on vocals so much.
"Sometimes we try to relive one of those songs, sometimes it brings back the magic, brings Stephen back here."
ADVERTISEMENT - CONTINUE READING BELOW
He continued, "And we asked all of you, 'Of all the songs Stephen sang lead vocal which would be your favorite song you'd want us to perform tonight?'
"And then there's one winner and the song for Stephen tonight is, 'Every Day I Love You.'"
It was indeed an emotional walk down memory lane when Boyzone members used the original arrangement of the song featuring Stephen's voice.
The two-hour BZ20 concert was packed with all their classic hits that delighted fans.

Included in the set list were popular songs "Picture of You," "Baby Can I Hold You," "Words," "No Matter What," "Love The Way You Love Me," and "Love Me For A Reason."
Ronan Keating ended the Manila show by telling their fans, "Thank you for allowing us to relive all those memories. With the songs you want to hear and the songs we want to sing but also to be at the future because Boyzone is back, we're back!"
ADVERTISEMENT - CONTINUE READING BELOW