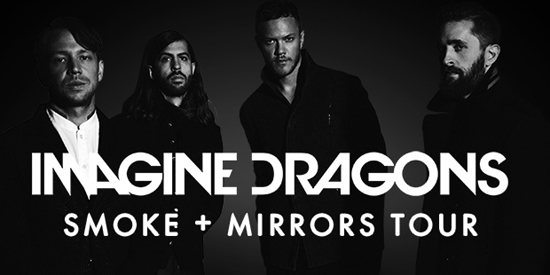 ---

On August 27, popular American rock band Imagine Dragons will bring their Smoke + Mirrors tour here in the Philippines by performing at the Mall of Asia Arena.


The Grammy Award-winning act for Best Rock Performance is composed of lead vocalist Dan Reynolds, guitarist Wayne "Wing" Sermon, bassist Ben McKee and drummer Daniel Platzman.


To prepare concertgoers for a night of unforgettable music, here are 8 things to know about the four-member band.


1. Their band name is an anagram of different words… but still remains as a secret to everyone.
It has been four years since Imagine Dragons was formed, but nobody knows the real meaning of the band's name. According to Dan Reynolds in an interview with Radio.com, even their family members do not know the real meaning behind their band name. There was even one moment when he said that apostrophes should be added after the letters have been rearranged, but he said that it was a misinterpretation. He pointed out that there may or may not be an apostrophe.



ADVERTISEMENT - CONTINUE READING BELOW
2. Before becoming a sensation, they used to play at O'Shea's on the Las Vegas Strip.
The band has really come a long way. In 2008, Dan Reynolds met drummer Andrew Tolman in the university where they used to study. Andrew then recruited friend Wayne Sermon and wife Britanny Tolman. In turn, Wayne then recruited schoolmate Ben Mckee. They gained a huge following in Provo, Utah and eventually moved to Las Vegas where they used to play four nights a week at O'Shea's and released their first three extended plays.



3. The members of the band are talented in their own ways.
The members have individual talents to be proud of. For example, Ben Mckee is actually an excellent knitter that he can actually make hats! Wayne played the cello for nine years.



4. Dan Reynolds experienced depression in the past.
Lead vocalist Dan Reynolds recently revealed that he went through depression when he wrote the songs in the album Smoke + Mirrors. In an article published in news.com.au, Dan admitted, "The last few years have been the highest highs for me and certainly the lowest lows." He added that he got scared because despite the success their band has been reaping, he still felt empty. Fortunately, he was able to overcome this dark period in his life.
ADVERTISEMENT - CONTINUE READING BELOW
Here is the lead single of the album Smoke + Mirrors, "I Bet My Life."




5. Imagine Dragons has received various accolades.
Billboard named the band as the No. 1 Top Rock Artist of 2013 and No. 2 Top Rock Artist in 2014. Their album Night Visions charted in the Billboard 200 for more than two years and was the No. 4 album of 2013 in the United States and No. 3 album of 2013 in Canada. The band was also the No. 4 most streamed artist in Spotify in 2013 and No. 2 most streamed group globally in 2014.


Here is a music video of a song from their album Night Visions, "It's Time."




6. Their song "Radioactive" was Billboard's number one Hot Rock Song of 2013.
Aside from that distinction, their song also became the No. 1 Alternative Song of 2013. It is also the longest-charting single on the Billboard Hot 100 for 87 weeks.


Here is the music video of "Radioactive"




7. Who's the insomniac? Who's related to who?

ADVERTISEMENT - CONTINUE READING BELOW
Daniel once passed out while playing the drums during a long set in Vegas. But out of dedication, he continued to play for audiences. He also appeared in a short film called Eagles Are Turning People Into Horses. Ben has a higher tolerance for spicy food compared to anyone else. It is also interesting to know that Wayne is actually an insomniac, but he can write lots of music while others are sleeping. Mac, the manager of the band, is Dan's brother.



8. The Imagine Dragons band has had their share of the limelight in late night talk shows.
The band performed in American shows Late Night with Jimmy Fallon, Jimmy Kimmel Live! and The Tonight Show with Jay Leno.
They also got featured on The Ellen DeGeneres Show. Watch that performance here:




Imagine Dragons fans will get to know more about their favorite band when they finally conduct their Smoke + Mirrors Manilatour!
ADVERTISEMENT - CONTINUE READING BELOW
Tickets are now available via www.smtickets.com and SM Tickets outlets (call Tel. No. 470-2222).


Ticket Prices:
VIP – P10,560
Patron – P8,980
Lower Box A – P6,870
Lower Box B – P5,280
Upper Box – P3,170
Gen Ad – P2,110