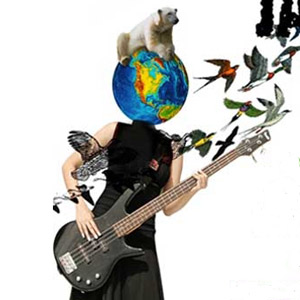 ---
In celebration of International Earth Day, roads close to give way for a sizzling street party at Quezon City's premier restaurant and bar strip, Tomas Morato Avenue. For one night, over 20 bands, musicians and artists gather to perform for the only home we have for a merry music-making marathon. Don't miss this grand event on April 25 at 7:00 pm.
This event is spearheaded by pop icon Lou Bonnevie (recipient of the Fr. Neri Satur award for Environmental Heroism given by the NCCA, UNESCO, Climate Institute and DepEd) and her production outfit Dimitri Productions.
Presented by the local government of Quezon City through its Environmental Protection & Waste Management Department (EPWMD), 2008's roster is a perky mix of young and veteran performers from jazz, world music to alternative, rock and ethnic.


The 2008 Earthday Jam starts with explosive jazz, samba and bossa at full swing with the Philippine Latin-Jazz Orchestra, the vocal ensemble The Company, the spicy samba group Guarana and bossa nova diva, Sitti. The pop set follows with sweet catchy tunes from Barbie Almalbis, Imago, Callalily, Moonstar '88 and Zelle. The rock scene then headlines three major bands-Rivermaya, Sandwich and Kjwan with "Earthday jam" veterans such as the artist-producer-envi awardee herself, Lou Bonnevie, backed up by rockers from Razorback & Pinikpikan, plus Noel Cabangon with his band and world-funk-ethno group Pinikpikan.


Earthday Jam can't be complete without the reggae-rastas from Reggae Mistress and True Faith, along with ska band Juan Pablo Dream and the wacky Radioactive Sago Project. The lineup also guarantees a musical feast with Sinosikat and UpDharma Down. The reunion of R&B group South Border will surely be a momentous occasion. Also joining musicians onstage are speakers from environmental NGO organizations and volunteers from the civic society.
ADVERTISEMENT - CONTINUE READING BELOW
Tomas Morato Avenue will be filled with tables and chairs for the audience (promised by The Morato Business Club). The street pavements become a lively al fresco where people may watch the concert as well as order food and enjoy "Earthday discounts" from establishments around the performance area. To maximize the viewing pleasure of the crowd, a multimedia stage with a spacious two-band set up will be placed along T. Morato Ave. perpendicular to Timog Ave. with four blocks from Scout Rallos (along Yellow Cab) to Scout Fuentebella (along Chili's).
Everyone is invited to drop by early and check out the "envi-tents" surrounding the vicinity. It's easy to say "Save the Earth" and it's another to actually do that. At the Earthday Jam, everyone is urged to show their support by taking part in the activities of the Department of Natural Resources and those of NGOs. Better still, bring out a placard to shout out your environmental sentiments. If you love Mother Earth as much as you should, hit the streets and stroll down to a party that concerns everybody.
ADVERTISEMENT - CONTINUE READING BELOW
Admission is free because living on Earth is free.
The 2008 Earthday Jam is directed by Toto Gentica and produced by Dimitri Productions on its eighth run this year. For more information, log on to www.dimitriproductions.com or call 8907145.