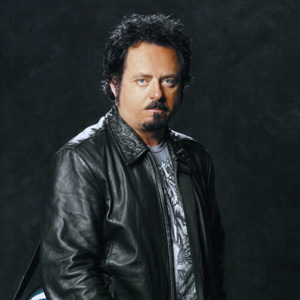 ---
Steve Lukather—the highly revered guitarist of the Grammy award-winning band Toto—is tired. Dead tired.
He and his bandmates had just arrived from Cebu, where they performed in a concert at the Cebu Waterfront Hotel. Yet the amiable musician met with the press a few hours before he performed at the Araneta Coliseum to cap of Toto's Manila visit.
"We didn't even have the chance to visit the places. It's like you wake up and you're in a different place already," lamented Steve during the April 3 press conference celebrating the release of his solo album titled Ever Changing Times. The local press met with the rock n' roll giant at the Lubang function room of the Edsa Shangri-la Hotel in Mandaluyong City.


Founded in 1976, the band Toto is behind the songs "Hold The Line," "Georgy Porgy," "99," "I Won't Hold You Back," "I'll Be Over You," "I'll Supply The Love," "Can't You Hear What I'm Saying," and "Make Believe." In 1978, the band won a Grammy Award for Best New Artists.
ADVERTISEMENT - CONTINUE READING BELOW
GOING SOLO. Juggling his solo endeavors with band commitments is not entirely new for the California-born guitarist. For Steve, doing a solo project is a good outlet for him to express himself without having to think of Toto's legacy in terms of sound and musical trademark.
Steve admitted that at this point of his career, he's practically done with Toto and he can't wait to finish the tour so that he could finally head home. Not that there's any hard feelings or resentment inside the group. According to Steve, having gone through the entire roller coaster of fame can be extremely draining especially at his age where he is supposed to be allotting time for himself and his family.
"I miss my family," he candidly confessed, "sometimes I wake up with tears on my eyes because I miss them."
These changes in Steve clearly inspired his fourth and latest record titled, Ever Changing Times, which he recorded while touring with Toto. Helping Steve were fellow great musicians led by bassist Leland Sklar, drummers Abe Laboriel and Steve Weingart and keyboardists Jeff Babko and Randy Goodrum.
ADVERTISEMENT - CONTINUE READING BELOW
"The record rocks harder than Toto," said Steve. He counts The Beatles among his inspirations when he worked on these tracks. Steve collaborated with his son and co-producer Steve Macmillan to keep everything perfectly balanced.
Ever Changing Times is composed of eleven tracks: "Ever Changing Times," "The Letting Go," "New World," "Tell Me What You Want From Me," "I Am," "Jammin' with Jesus," "Stab in the Back," "Never Ending Nights," "Ice Bound," "How Many Zeros," and "The Truth."
All songs, while diverse and distinct in their own right, possess the same old Lukather trademark—finely crafted songs, impeccable musicianship and an exciting array of musical styles.
Steve is known for his perfectionist nature and Ever Changing Times clearly displays this. In a time when image is more important than substance, Steve observed that it is important for musicians to make sure that what they're offering are only the best.
Given Steve's trained ear when it comes to good music, trust the multi-awarded guitarist when he used his instinct to select the songs in his solo album: "If it sounds good, then I keep it."
ADVERTISEMENT - CONTINUE READING BELOW
Steve Lukather's Ever Changing Times is distributed locally by GMA Records.