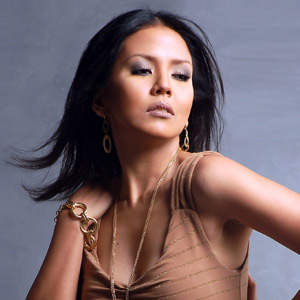 ---
Award-winning R&B songstress Arnee Hidalgo makes a timely comeback as she launches the deluxe edition of her You Got It All album.
The launch was held last April 4 at the Eastwood Activity Center. Friends, family and loyal fans attended the weekend shindig, all raring to hear their favorite R&B chanteuse after her long absence from the music scene.
Among the highlights of the launch were the fun games hosted by pre-event host Veronica, Arnee's smoldering duet with special guest Kris Lawrence and the short but meaty mini-fashion show which featured hunky Mercator Models, John, Bjorn and Ken strutting with Mossimo's latest summer line. Actor James Blanco and DJ-Host Eri Neeman made a cameo appearance for this segment.
Pinoy Rock guitar legend Gary Perez of Sampaguita fame, who just arrived from the U.S. after 18 years, also guested to perform "Summertime." His bluesy wails and scorching guitar work served as a haunting intro for the classic standard.
ADVERTISEMENT - CONTINUE READING BELOW
The star of the night looked elegant and dazzling as she donned several costume changes throughout the two-hour affair. As expected, Arnee's voice showed no tell-tale signs of wear and tear. One of the highlights of the show's repertoire was her R&B medley where she did covers of R&B royalty Fergie, Alicia Keys, Beyonce and Rihanna—all done in her signature style that showcased her versatility. Breezing through ballads, remakes and upbeat grooves, Arnee proved that she remains one of the rightful heirs to the R&B throne.
Originally launched in May 2006, Arnee's third album You Got It All marks her excursion into pop territory. She releases memorable remakes—"You Got It All," "What Might Have Been," "Miss You Like Crazy," "Inside That I Cried," "I Can't Make You Love Me," "Mahal Kita Walang Iba," and the original "Kahit Minsan Lang." Special guest performer Piolo Pascual shares the spotlight in the duet track, "Love Is."
ADVERTISEMENT - CONTINUE READING BELOW
A true-blue R&B trouper at heart, Arnee feels that the inclusion of the four new tracks marks a fitting return to her musical roots, particularly in preparation for her all-original R&B album in 2009.
Elder brother Jeffrey, who takes much of the album's production credits, believes that there's nothing like going back to her first love. "From her old materials where she dabbled in pop, ballads, standards and even dance, you can see how versatile she can be," he says, "but her soulful vocal stylings and signature 'big' vocals definitely spell urban/R&B."
The new CD boasts four new remakes: "I Try," which is the deluxe edition's first offering. It also includes "How Do You Heal A Broken Heart?" and the old classic "Summertime." The follow-up single to be released this month is the powerful remake, "Again," which will definitely put listeners in a sentimental mood. All these songs were given a definitive R&B twist by arrangers Paulo Zarate, Bobby Velasco and Brian Cua.
ADVERTISEMENT - CONTINUE READING BELOW
Before her absence from the music scene, Arnee was last seen in the Moment of Greatness concert with the Philippine Idol finalists, as well as the Life In The City concert with Christian Bautista.
The R&B singer is currently busy running the family business: Cutting Edge Asia Products, makers of Mismo, where she is vice-president for finance. She is also entering her senior year at the Southville International School where she pursues her degree in Business Administration, majoring in Finance.
The deluxe edition of Arnee Hidalgo's You Got It All album under Musiclink Record Productions is available in record bars, distributed by Star Records.