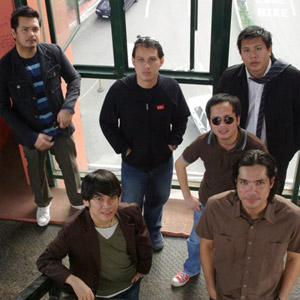 ---
Truefaith had always been ahead of its time. Unfortunately, the Medwin Marfil-led band failed to generate enough attention and recognition, compared to their contemporaries, for their artistic boldness and innovativeness.
"Personally, I do think about it sometimes," acknowledged Medwin to PEP (Philippine Entertainment Portal) in an interview recently celebrating the release of Truefaith's greatest hits album Dream Journal under EMI Philippines.
According to Medwin, pushing the boundaries and challenging themselves artistically have always been on top of Truefaith's checklist every time they troop to the studio to jam and record.
"We wanted to sound totally different from everyone else in the beginning. I guess it is still the same 'til now. If anyone wanted to join the band he or she should be very open to anything musically," he pointed out.
Explaining the band's creative process, he added: "When we make our songs, we unconsciously put in elements of everything that we are into at that particular moment, so the tendency is that our music ends up sounding like 'the middle' of everything, which is where we really want to be."
ADVERTISEMENT - CONTINUE READING BELOW
Fifteen years in the music industry is definitely a stellar feat and Truefaith had to work extremely hard to keep stay afloat in the midst of lineup changes, personal problems, management issues, creative conflict and changing musical trends.
Currently the band is made up of Medwin (vocals), Kenneth Ilagan (guitars), Eugene Marfil (guitars), Bimbo Yance (bass), Jake Lumacad (keyboards) and Benedict Esguerra (drums).
"We're most proud of the fact that we've lasted this long despite changes in musical trends and all the trials that we've been through. And there've been lots of trials indeed," said Medwin.
POTPOURRI OF HITS. To celebrate Truefaith's contribution to OPM, EMI Records compiled all of the band's most memorable hits and other less popular-yet-beautiful tracks. Dubbed as Dream Journal, the two-disc 34-track album chronicles Truefaith's journey through songs that endeared them to the listening public and cemented the band's reputation as certified hit makers.
Included in the album are Truefaith's most memorable songs like "Perfect," "Huwag Na Lang Kaya," "Alaala," "Muntik Nang Maabot Ang Langit," "Kung Ok Lang Sa 'Yo," "Kundi Rin Lang Ikaw," "Dedma," and "Dahil Ikaw" among many others.
ADVERTISEMENT - CONTINUE READING BELOW
But aside from the well-known tunes, Dream Journal is a also a perfect opportunity for the band to introduce, as well as reacquaint, listeners to songs that were equally good as the singles yet were never given much exposure before due to various reasons.
Songs like "Kahapon," "Alam," "Get It On," "Ngumiti Ka Lang," "Bukas Liligaya Din Ako," "Silence of the Heart," "Enjoy" and a whole lot more. Interestingly, the band's flirtation with bossa nova spawned the song "Minsan (Lang Ako Umibig)," which they created six years before the soothing and sexy genre gained ground here in the Philippines.
"Artistically we've made music that we love and a lot of people appreciate. I think that's an achievement. We've had several albums that don't always follow what is trendy or cool. We just wanted to be ourselves," proudly said Medwin, who a few years ago had to resort to legal measures to keep the band's name.
ADVERTISEMENT - CONTINUE READING BELOW
Despite all the hardships, Dream Journal and the wealth of materials the band churned out through the years makes Truefaith brim with contentment.
Medwin expressed what it means to be part of Truefaith: "Making music, playing to appreciative crowds, making friends, having a grand time and earning a living at the same time."
Truefaith's double-disc 34-track record titled Dream Journal is now available in record bars nationwide.