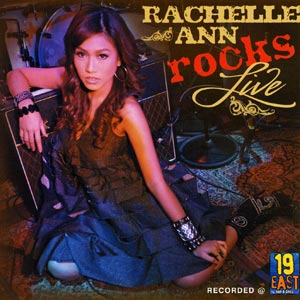 ---
For her fourth album, singer Rachelle Ann Go traded pop ballads for pop rock. Also, the Search for a Star champion momentarily ditched the studio in favor of a live setup.
Stepping out of her comfort zone resulted in Rachelle Ann Rocks Live, Rachelle Ann's newest CD under Viva Records. This 13-track album was recorded live at the 19 East Bar and Grill in Paranaque City. Out of the two hundred song titles, Rachelle Ann and her team meticulously selected thirteen tunes mostly popularized by male artists or groups with male soloists. Aside from familiarity and recall, the songs perfectly suited Rachelle Ann's vocal range.
The songs that made it in the final cut were Harem Scarem's "Honestly," Blind Melon's "No Rain," David Pack's "I Just Can't Let Go," Survivor's "The Search Is Over," Jon Bon Jovi's "This Ain't a Love Song," Aerosmith's "Cryin'," and Amy Grant's "That's What Love Is For."
ADVERTISEMENT - CONTINUE READING BELOW
Other songs chosen by Rachelle and her team are Bryan Adams's "When You Love Someone," The Rembrandts' "Someone," the Williams Brothers' "Can't Cry Hard Enough," REO Speedwagon's "Can't Fight This Feeling," John Waite's "I Ain't Missing You At All" and Def Leppard's "Two Steps Behind."
Accompanying Rachelle Ann in rendering the songs and giving them a fresh feel were seasoned musicians Noel Mendez and Janno Queyquep (guitars), Soc Mina (bass), Nino Regalado (drums), Monet Silvestre (piano), Jay Agustin (keyboards) while Sushi Reyes, Manolo Tanquilut, Zebedee Zuniga and Cecille Aurellado provided backup vocals.
Incidentally, drummer Nino Regalado was also the album's musical director and arranger. Eric Payumo, on the other hand, supervised the entire live recording in 19 East.
Always reinventing herself and not sticking to a certain genre has always been Rachelle Ann's strength as an artist. Rachelle Ann Rocks Live is another proof of the young singer's willingness to take risks and at the same time brandish her flexibility as a singer.
ADVERTISEMENT - CONTINUE READING BELOW
To promote the album, Rachelle Ann is currently doing the rounds in and outside the metro. On April 26, she will be at SM Taytay, Rizal, and at the Trinoma Park, Quezon City, on the 30th. Rachelle Ann will then embark on a bar tour starting at the Hard Rock Café on May 14 followed by a show at Ratsky on June 4.