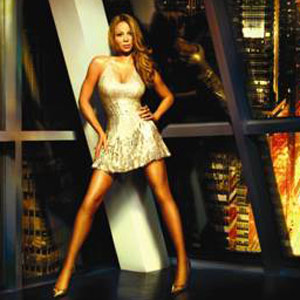 ---
Mariah Carey's eleventh studio album just proves how badly Filipinos want to own a copy of the diva's latest offering. The multi-award winning singer-songwriter's newest album E=MC² reached gold status in just eight days.
According to the Philippine Recording Industry Music Association, the group in charge of certifying record and album sales in the country, an album reaches the gold status after selling 15,000 copies, or more, of the album .
This achievement comes at the heels of another blessing for Mariah. Upon the release of the album's flirty first single, "Touch My Body," the song soon reached #1 in the Billboard Hot 100 Singles Chart in the United States. The song also became Mariah's eighteenth number one single, beating Elvis Presley for having the most number-one singles and coming second only to The Beatles.
The album name E=MC² means "(E) Emancipation (=) equals (MC) Mariah Carey (²) to the second power." It is a play on Einstein's famous mass-energy equivalence formula wherein E represents energy, m represents mass, and c² is the square of the speed of light.
Mariah's album is also regarded as the sequel to her 2005 smash hit The Emancipation of Mimi. This previous album included the tracks "We Belong Together" and "Don't Forget About Us," Mariah's previous number-one singles.
E=MC² includes the songs "Migrate," "Cruise Control" (featuring Damian Marley), "I Stay In Love," "Side Effects" (featuring Young Jeezy), "I'm That Chick," and "Love Story." Other songs are "I'll Be Lovin' U Long Time," "Last Kiss," "Thanx 4 Nothin,'" "O.O.C.," "For the Record," and "I Wish You Well."
ADVERTISEMENT - CONTINUE READING BELOW
The five-time Grammy winner has also officially confirmed the the follow-up single to "Touch My Body" will be "Bye Bye," a more sentimental take on letting go and saying goodbye on a more general tone. It's directed not only to unreciprocated hopeful lovers but to family and friends as well.
Given the phenomenal succes of E=MC² in the Philippines, MCA Music Inc. is releasing limited edition posters with the album's standard edition and rare VIP cards and iPod skins with its deluxe edition.
So, immerse yourself in the soulful lyrics and smoothly embedded melodies that can only be delivered by Mariah Carey's unique voice. Make sure to drop by your favorite record bars and grab your own original copy of E=MC² as well as other goodies offered by MCA Music.